This post contains affiliate links to products mentioned. For more information, read my
disclosure policy.
My husband and I lead children's worship every Sunday at our church.  In the kids' worship room, there's an electric tree with little blue flowers that light up.  As far as decorations go, the tree is a bit random, but it provided the perfect opportunity to teach the kids about life in Christ.
One week, we were studying John 15 and Jesus, the True Vine.  To explain his teachings to them, I walked to the tree with a large pair of scissors and asked them what would happen if I cut off a branch.  The most pragmatic kids quickly explained that I'd probably get electrocuted.  Others went straight to the point:  If I cut the branch off the tree, it would no longer light up.  It wouldn't do anything.  It would be useless.
Just like our lives outside of Christ.
He said, "I am the vine; you are the branches.  If you remain in me and I in you, you will bear much fruit; apart from me you can do nothing."  (John 15:5)
That's why he said, "Remain in me, as I also remain in you.  No branch can bear fruit by itself; it must remain in the vine.  Neither can you bear fruit unless you remain in me." (John 15:4)
It's vital that we stay in the vine, that we stay connected to Christ through the study of his word, prayer, worship, service and fellowship with other believers.  If we get isolated from him, we stop growing, and branches that don't grow don't produce fruit.
But when we do, our lives glow just like that blue tree's branch.  Life in the Vine has some very distinct characteristics.  Jesus mentioned each of them in John 15, describing what our lives should look like in him.
10 Characteristics of Life in Christ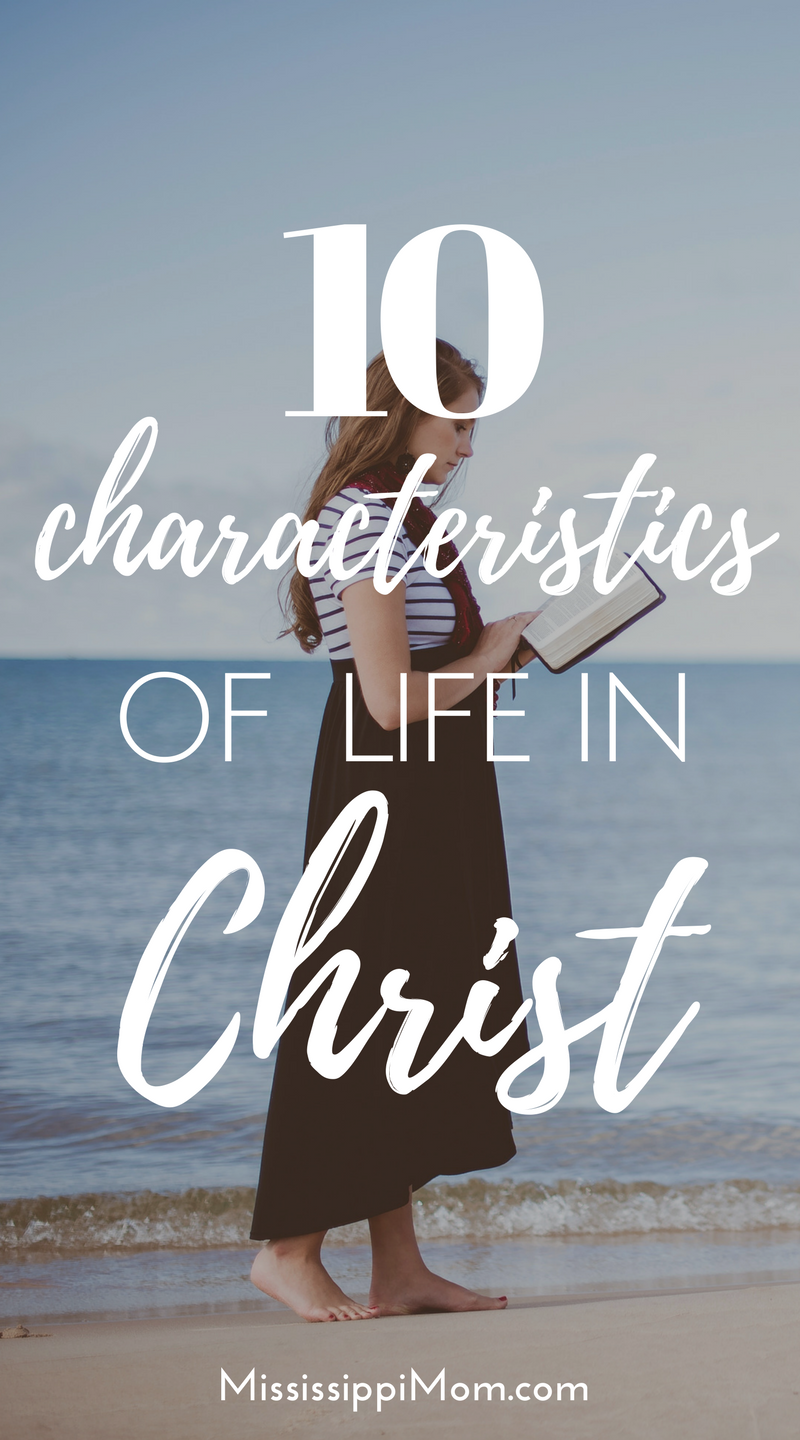 #1 – Life in Christ is Fruitful
I've already mentioned the first characteristic of life in Christ:  Fruit.  Branches connected to the vine bear it.  It really is that simple, you know?  From the moment we come to know Christ as Lord, the Spirit begins producing fruit in us.  Galatians 5:22 says, "The fruit of the Spirit is love, joy, peace, patience, kindness, goodness, faithfulness, gentleness and self-control."  Our attitudes change; our actions do, too.  We begin to share this fruit, and it reproduces.
We make disciples.
What does that mean?  It means that we share Christ with others in our words and in our deeds.  They come to know him as they get to know us.  The fruit of his Spirit in our lives points them directly to him.  Just think of the Parable of the Sower that Jesus told in Matthew 13.  The sower sowed seed as he went, scattering it everywhere he walked.  Some of the places produced fruit; others didn't.  He sowed it anyway.
The thing I love most about that story is the fact that though some seed might have been "wasted" because it landed on the road or among the thorns, the seed that landed in good soil produced more than the sower ever expected.
Our fruit works the same way.  Who knows where the person you disciple will end up?  Who will they share the Gospel with?  How many will come to Christ because of a seed you sowed somewhere?
"Therefore, go and make disciples of all nations, baptizing them in the name of the Father and of the Son and of the Holy Spirit and teaching them to obey everything I have commanded you." (Matthew 28:19-20)
#2 – Life in Christ Gets Pruned
I have one beautiful rose bush that always blooms.  Every year, I am blessed by some of the most gorgeous pink roses on earth.  The bush was planted by my grandmother, and to be honest, I'm terrified to touch it.  I am always afraid I'll kill it.  Don't laugh:  it's the only rose bush I have left living.  I've managed to lose lots of others.
Still, I know that if I want to see those beautiful blooms, I have to prune the bush.  So I do.  Carefully.  At all the proper points, according to the only gardening book I've ever read.  I do my best to bring out that bush's best.
God does the same thing with us.
Jesus said, "every branch that does bear fruit, he prunes so that it will be even more fruitful." (John 15:2)
He whittles away at the things that hold us back, convicting us and changing us bit by bit because "those God foreknew he also predestined to be conformed to the image of his Son." (Romans 8:29)
#3 – Life in Christ is Dependent
Every time I see that little blue tree in our kids' worship room at church, I can't help but think of how lifeless a branch would be if it were cut off from the tree.  There'd be no power coursing through it, no light shining from it.  The only thing left to do with it would be to throw it away.
Jesus said that we're the same way.
He said, "If you do not remain in me, you are like a branch that is thrown away and withers; such branches are picked up, thrown into the fire and burned." (John 15:6)
Ouch.
Without him, we're completely without power.  We can't fulfill our purpose.  Apart from him, we can do nothing. (John 15:5)
#4 – Life in Christ Has a Special Relationship
Now, we know that through Christ, we have relationship with God, but we sometimes forget just how special that relationship is.
He hears us, and he answers.
Jesus said, "If you remain in me and my words remain in you, ask whatever you wish and it will be done for you." (John 15:7)
Jesus goes on to say he calls us "friends." (John 15:15)  He reveals the Father's will to us, teaching us through his word and his Spirit how to live.
#5 – Life in Christ is Chosen
So many times, we talk about "choosing to follow Christ," but I think it's very important to hear Jesus say, "You did not choose me, but I chose you." (John 15:16)
Did you hear that?  I don't care how many times you were chosen last for a team in kickball, Christ chose you "before the creation of the world to be holy and blameless in his sight." (Ephesians 1:4)
You are not someone he just got stuck with.  You are a "chosen people, a royal priesthood." (1 Peter 2:9)
#6 – Life in Christ has Purpose
Jesus didn't just choose you.  He appointed you "so that you might go and bear fruit – fruit that will last." (John 15:16)
He has given you purpose. And, yes, we're back to bearing fruit.  That is the point of a vine, isn't it?
I don't know what you do each day. (I often don't know what I do each day.) But I do know that God has a purpose for you.  He has sent you into the world to change it.  Whether you change big things or little ones, you can do it all with him in mind because….
#7 – Life in Christ Brings Glory to God
Jesus said, "It is to my father's glory that you bear much fruit, showing yourselves to be my disciples." (John 15:8)
We sometimes think that to do so requires big things like writing books, speaking at conferences, living as missionaries overseas, but the truth is "whatever you do, do it all for the glory of God." (1 Corinthians 10:31)
I love the way Brother Lawrence put it in The Practice of the Presence of God:  "We ought not to be weary of doing little things for the love of God, who regards not the greatness of the work, but the love with which it is performed."
As well as the way Steven Curtis Chapman put it is this song:
#8 – Life in Christ Loves
Obviously, as the quote from Brother Lawrence suggests, when we remain in the vine, we live out our love for Christ, but when we remain in him, we also live out our love for others and for each other.
Jesus said, "By this all men will know you are my disciples if you love one another." (John 13:35)
Jesus set the example for this, and his love enables us to follow it.  After all, "we love because he first loved us." (1 John 4:19)
And, "this is how we know what love is:  Jesus Christ laid down his life for us. And we ought to lay down our lives for our brothers and sisters." (1 John 3:16)
Because…
#9 – Life in Christ Sacrifices
"No servant is greater than his master," right?
Jesus set the greatest example of sacrifice for us, offering himself for our sins, and as we remain in the vine, we will have daily opportunities to offer ourselves sacrificially, too.
"Therefore, I urge you, brothers and sisters, in view of God's mercy, to offer your bodies as a living sacrifice, holy and pleasing to God – this is your true and proper worship." (Romans 12:1)
I absolutely love the way The Message puts it: "So here's what I want you to do, God helping you: Take your everyday, ordinary life—your sleeping, eating, going-to-work, and walking-around life—and place it before God as an offering."
And, we can do that at all times, offering "to God a sacrifice of praise" because….
#10 – Life in Christ has Joy
Jesus said, "I have told you these things so that your joy may be complete."
Can you even imagine?  Complete joy.  It's almost impossible to fathom it in this world full of woes, but the joy Jesus spoke of did not depend upon our problems but upon his presence.
When we remain in the vine, we can rest instead of worry.  We can rejoice whatever our circumstances because, like Paul, we've learned the secret to being content: Christ.
What are your thoughts?  How do you stay connected to the Vine?  Leave a comment and let me know.  I'd love to hear from you!
Also, please join us today for Encouraging Word Wednesday by linking up your favorite faith-filled posts then visiting one or two other links and leaving an encouraging comment!