This post contains affiliate links to products mentioned. For more information, read my
disclosure policy.
If you are needing a quick and easy edible craft, look no further!  Here's a treat your kids will love making…and eating!  It is a great, easy idea for kids' Christmas parties because kids require little hands-on help when creating these White Chocolate Covered Oreo Snowmen!
Mini Chocolate Chips
are used for the eyes, and M&M's Minis
for the noses.
We used Wilton Clear Piping Gel, 10-Ounce
to adhere them because I had some on hand, but a bit of melted White Chocolate or Candy Melts
would work as well.  You can see from the photo that the kids went a little heavy on the piping gel, but I resolved to LET THEM DO THIS.  I have to fight the perfectionist urge to take over and perfect their crafts, and when I manage to do it, I always love seeing their creativity come out.
You can certainly dip your own Oreos in white chocolate, but for me, this is the season of simple so I bought White Fudge Covered Oreos
.  All I had to do was put them on a plate with what my kids needed and let them go to town….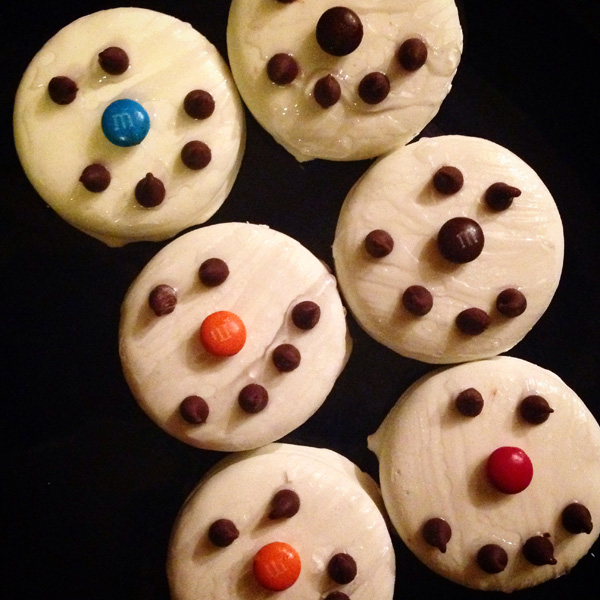 They did!  My four-year-old loved that he did not need my help.  Yours probably will, too!
Enjoy!
Be sure to follow along daily for more devotions.  You can find them here or you can download the ebook A Christmas Call to Worship: Daily Devotions for the Month of December
 for a full 31 days of Christmas devotions!
*This post contains affiliate links.