This post contains affiliate links to products mentioned. For more information, read my
disclosure policy.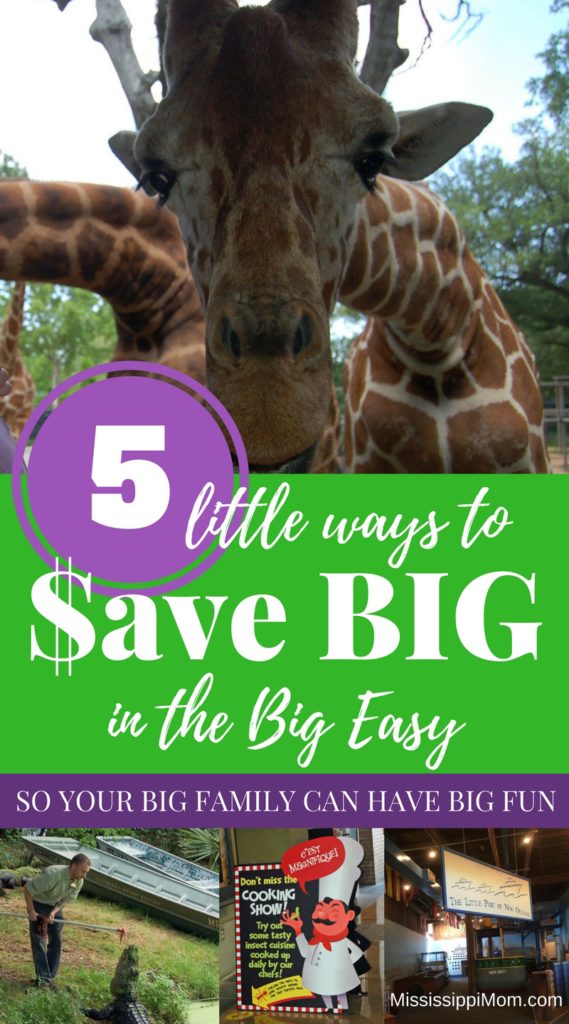 If you have a large family, you know how quickly going places can get expensive.  What was a fun outing for our family of four has become almost completely unaffordable for our family of six.  Needless to say, when we want to take the kids somewhere new, we do a good bit of research first.
Our recent trip to New Orleans was no exception.  We've visited often enough to know just how expensive the city can be so I took a little time to look at our options before we headed out.
One of the things we always check out before we take our family somewhere new is whether a museum membership we already have will help us receive discounts at any attractions in another city or state.  Our annual membership to the Mississippi Museum of Natural Science has been a wonderful way to visit other museums for free or at discounted rates.  We've used it in Georgia, North Carolina, Tennessee, Alabama, and most recently in New Orleans, where we visited the Louisiana Children's Museum at no charge.  It was wonderful!
One cost it didn't help bring down was the cost of visiting Audubon Nature Institute's attractions as the institute is not part of a reciprocal program.
No worries!  We found a way to cut cost on that trip, as well as to make future visits possible!

What's Audubon Nature Institute, anyway?
According to the institute's website, "Audubon Nature Institute is a 501(c)3 not for profit that operates a family of ten museums and parks dedicated to nature. We serve our visitors, our community and our world as an educational resource, an environmental guardian, a leader in economic development and a venue for family entertainment. The success of the Audubon family lies within the individual strengths of its facilities. Working together, they are helping to create a bright future for generations to come."
For our specific purposes in this post, I'm talking about the Audubon Zoo, Audubon Aquarium of the Americas, and the Audubon Butterfly Garden and Insectarium.  (They also have the Audubon Louisiana Nature Center, but we weren't able to visit it…Next time!)
Anyway, the zoo and aquarium are some of the best in the world, and the insectarium is one of the most unique places you'll ever take your family.  I mean, how many places do they get to eat Cricket Chocolate Chip Cookies?
There's more to see and do than you'll manage in one day, but you'll definitely want to do it all.  The problem is that it's pretty expensive.  According to the institute's website, Audubon Experience tickets (which include all three attractions, as well as tickets to the Entergy Giant Screen Theater) are $44.95 for adults and $34.95 for kids.  Y'all, that would total almost $230 for our family.  I'm not saying it's not money well spent, but I was determined to find a cheaper way.
Enter Audubon memberships.
We purchased a family membership, which includes two adults and their children under 18 with free admission for one year, plus discounted rates for other things like the theater (only $5.00 per person) and shops.  The cost of the membership was $155 so even if we had purchased tickets to the theater (next time!), we would only have spent $185 for the six of us.  And, we can go back as often as we like for an entire year.
Thankfully, we do live close enough to do so, but even if you don't, you can save money on a weekend trip by joining the institute.  And, who doesn't want to save money?
Oh, and if you only have 2 kids, the cost for the Audubon Experience tickets for two adults and two kids is $159.80 so it is a little cheaper than joining then purchasing $5 theater tickets, but if you have any chance of visiting twice, the membership is the way to go!
While you're in New Orleans, there are a few other ways to save money that are fun for your family:
Trolley rides are cheap, and kids love them.  They're a perfect way to rest little legs after long walks, too.  You'll save quite a bit of money on parking by not taking your car around town.
Beignets are an inexpensive treat to tide the kids over 'til dinner, and you don't have to wait in line at Cafe du Monde to get them.  (Hint:  other restaurants serve them, too.)
When in doubt, eat like a local.  This is true all over the world, but food in New Orleans can get pretty pricey.  People who live there can tell you the best bites for the least price.  Here's a list of suggestions. (Our kids enjoyed Camellia Grill!)
Take the ferry across the river.  It only costs a couple of dollars, and your kids will be love being able to be on a boat.
Enjoy the things that are absolutely free, like a stroll along the Riverwalk or street performers in Jackson Square.  New Orleans is entertainment all on its own so don't miss it by cramming your schedule too full to enjoy the city for its own sake.
For more information about visiting New Orleans, read my posts about the Audubon Zoo and the Insectarium!
How do you save money when you travel with kids?  What tips do you have for visiting New Orleans with children?
If you've found this post helpful, would you share it?  You can pin the image below.  Thanks!