This post contains affiliate links to products mentioned. For more information, read my
disclosure policy.
I married an engineer.  He's a planner.  Every Saturday morning, no matter how early, he looks at me and says, "So what's your plan for the day?"
Honestly.
Let me drink my coffee before you make me plan.  
He's also the kind of person who needs to do something….even if not much actually gets accomplished.
Me…I'm a bit more mellow.
There's a place for both us in this world and in this relationship.
The funny thing is that when it comes to our relationships with Christ, we're just the opposite.
I worry.  He rests.
I struggle and strive while he sits and soaks.
If ever I tell you to take after your dad, hear me now:  BE LIKE HIM.
Rest in your relationship with Christ.
Don't get me wrong.  He's not lazy.  He's not lounging around like me on a Saturday.  He's abiding….actively.
It's something I've learned from him over the years, this fretless faith I need.
It reminds me of the nine, long months I carried you, each of you, BOTH of you, all of you.  Of the nights at L&D and the days of bed rest.  Of labor induction and spinal blocks.  Of monitors and morning sickness.
You do know you did nothing to be my child, right?  You just are.  You always will be.  Nothing will change that.
The same is true with Christ.  He did the work.  He chose you.  Your faith in Him makes you his.  There's nothing else you need.
You cannot earn more grace than he already gives.
You cannot leverage his love.
So stop striving.
Don't do…just be.
Be his.
Be faithful.
Be thankful.
And rest.
————————————————————————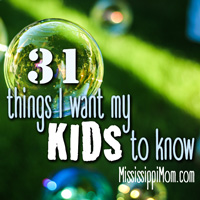 This series "31 Things I Want My Kids to Know" is written like letters to my little ones, but it's chock-full of lessons I need to learn.  I hope you'll join me on the journey!
And, don't forget to check out last year's series "31 Days of Wisdom for Moms Like Me," which is a 31-day walk through the book of Proverbs.
Be sure to visit Write 31 Days to see so many wonderful topics from writers around the web.
Fretless Faith works for me so I'm sharing it at Works for Me Wednesday this week!