This post contains affiliate links to products mentioned. For more information, read my
disclosure policy.
I want you to know that dreams do come true.
Now, take a moment, please, and push any images of Disney aside.
Let's talk dreams, not fairy tales.
The stuff of real life.
Unless you'd like to kiss a frog?
Dreams.
The inner longings of your soul.  Deep down in there.  Deep enough no one else knows about them.  Maybe you don't even know them yet.
But you will.
You will feel a stirring, a hope, a passing fancy.
And, maybe that's all it will ever be.
But, MAYBE, you'll think on it, ponder it, watch that whim grow.
Until it's part of you.
Your dreams may be things absolutely expected.  You love to play school now.  Maybe you will dream of teaching others one day.
Dreams can be most unexpected, too.  Take it from a lady who turned her back on law school to do missions in Africa.
Either way…dreams can come true.
I'm not saying you should expect an old lady with a wand to show up on your doorstep and make everything right.  You've got something better than a fairy godmother.
You see, your dreams have a source.
You long for love?  That's because you were made by the God who gives it.
You pine for purpose?  That's because God created people with passion.
Your dreams, your longings, begin with his love.  He made us to want "more."  He sets eternity in our hearts and knows we're searching for it.
And, that's why I know your dreams can come true.
Because he longs to fulfill your longings.
And, when you "delight yourself in the Lord, he will give you the desires of your heart."
Because, whether you know it or not, HE is the deepest desire of your heart.  He can fulfill your longings and give purpose to your passions.  He created you.  He knows you.  He designed your personality and handpicked your gifts.  He will plant dreams deep in the heart of you and put you on the path toward them.
And, when he does, remember this:
"He who began a good work in you will be faithful to complete it."
So….
Trust him with your hopes.
Lay your longings before him.
And, always, dare to dream.
———————————————————–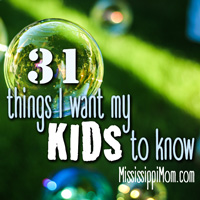 Join me all month as I share 31 Things I Want My Kids to Know as part of the Write 31 Days Challenge.
And, don't forget to check out last year's 31-Day Series "31 Days of Wisdom for Moms Like Me."