This post contains affiliate links to products mentioned. For more information, read my
disclosure policy.
Be ready for guests with the Perfect Holiday Hot Beverage Station and whip up a quick and easy Peppermint Mocha anytime!
I love having friends over for coffee and what my son calls "chitty chat chat."  I love to linger over a warm beverage and ponder life with some of my besties.  (My preteen would DIE…or at least roll her eyes…if she read that I called them that here…in public.)
It's therapeutic.
We all need friendship and fellowship.  It's how we were created, to long for connection.  And, after all, even our faith needs friendship.
Breaking bread (or drinking coffee) together is one of the ways we fellowship.  It was one of the characteristics of the early church, this gathering together for nourishment from the word and from each other.
We dare not neglect it.
Of course, we all have reasons that it's easier to say, "Just meet me at the coffee shop."
Sometimes, we:
need to clean our houses
don't think our home is big (or nice!) enough to host others
get nervous about being the hostess
aren't organized and ready for guests.
Meeting at the coffee shop is fine and good, but let me tell you one thing I've learned over the years:  opening your home to others helps open their hearts to you.
When we let people into our homes, we're letting them into our lives.  Legos on the floor and everything.
One of the ways I try to be prepared for unexpected, as well as long-awaited, guests is to have an area ready to serve coffee as quickly as possible so that when a friend texts, "Coffee today?"  I can whip it up in no time.
Especially during the holidays!
How to Set Up the Perfect Holiday Hot Beverage Station
The first key to setting up the Perfect Holiday Hot Beverage Station is to realize you don't have to go overboard or use a lot of space.  I like to keep my counters clear, y'all. (Okay, I dream of keeping my counters clear, but that's nearly the same, isn't it?)
Just keep it simple with the essentials.
First, you need a coffee maker.  Don't worry if you don't have the latest Keurig and all the little pods to use in it.  Whatever you have will work.  Even if it is the Krups your husband gave you almost 15 years ago that has been recycled back into your kitchen because it outlived your newer fancy single serve machine.  (I'm not dropping hints here.  My husband doesn't read my blog.)
Be sure to have a way to quickly and easily make hot water for hot tea or cocoa.  I like to keep an electric kettle handy for heating water quickly.
When guests drop by, I make the coffee for them, but if we have guests staying at our home, I want to make it as easy as possible for them to make themselves at home.  To do this, I like to keep things they'll need easily accessible.
I place things like coffee, tea, hot cocoa packets, sugar, sweeteners and flavored syrup on a tray so they don't have to search for them.  Don't forget the spoons!  Guests always feel a bit awkward trying to find where you keep them so have them out in plain sight if you can.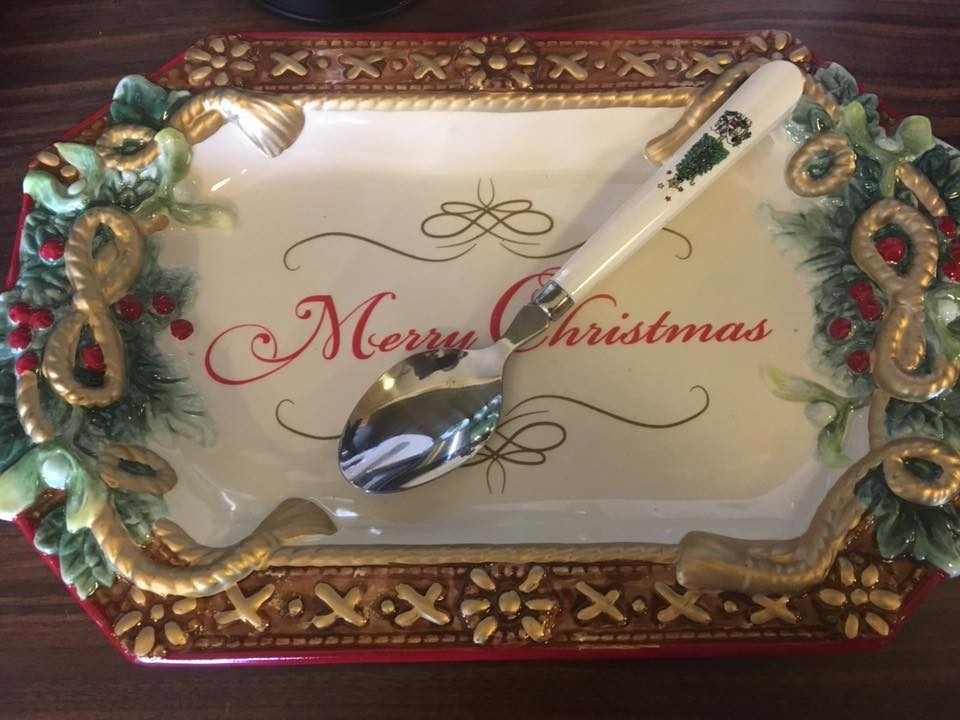 Be sure to give them a place to put the spoons after they've stirred their coffee. This is especially helpful if you're having a number of guests at one time.
What hot beverages should you serve?
Obviously, it's up to you!  Use what you like, but try to have a variety.  I like to include my favorite coffee if I have it, some herbal tea appropriate for the season, tea from Kenya, and hot cocoa.
To make coffee a bit more special, I always froth the milk!  It's so easy to do with a milk frother and really puts the coffee you serve in another league…like a coffee shop one!  I have saved so much money knowing I can make a latte or cappuccino at home.   You don't have to have an espresso maker (though I LOVE espresso!).  Just brew really strong coffee.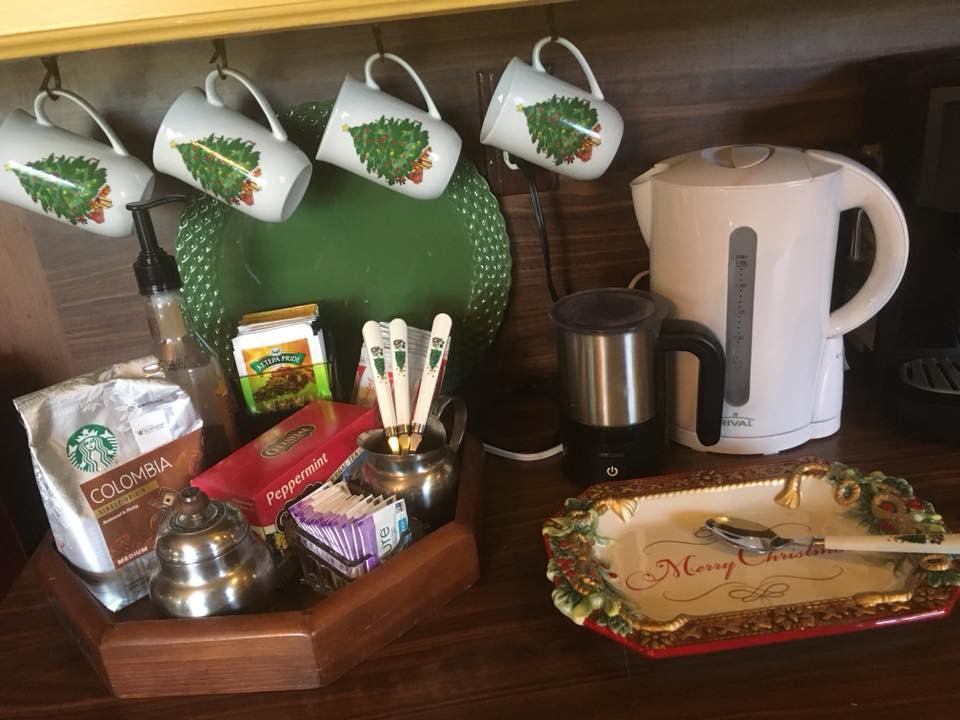 I also like to keep cups where guest can reach them easily, as well as a serving dish or platter so I can pull it out and place a few goodies on the table to accompany the coffee!  Be sure when choosing cups to consider more than how cute they are.  Some adorable mugs have lips that make spills more likely.  Choose cups that are easy to look at and easy to use!
One of the easiest things to make for guests this time of year is a Quick and Easy Peppermint Mocha.
How to Make a Quick and Easy Peppermint Mocha
First, brew strong coffee or espresso.
Empty one pack of hot cocoa mix into a cup and add a peppermint tea bag.
Pour coffee over the mix and the tea bag and stir.
Remove tea bag and add frothed milk.
Enjoy!
It's so easy but really delicious, and having all the ingredients right there at your Holiday Hot Beverage Station makes it so quick!
For quick reference, be sure to pin the image below!
And don't forget that true hospitality is not contingent upon how perfect your home is.  Not five minutes after I finished setting up our hot beverage station, I found this:
Because an empty Christmas dish is obviously the best place to put your newly dug fossils.
And, yes, you're looking at photos of outdated, fake wood laminate countertops with a matching backsplash.  If that doesn't keep me from entertaining in my home, I can't imagine what will!  We seriously need to do a kitchen renovation, and I'm thinking I might get one of the Havenly Online Interior Designers to help me with it because at Havenly, you can chat with designers for free, and packages start at only $79 for a design.   When we do finally undertake that project, I'll definitely keep you all in the loop on the progress!
Until then, my friends and family will enjoy their Peppermint Mochas in a harvest gold kitchen with ugly counters, but the fellowship will still be beautiful.