This post contains affiliate links to products mentioned. For more information, read my
disclosure policy.
We live in a world where people think they should be rewarded for showing up, that presence is enough for the prize.
It simply isn't so.
I hate to disillusion you, but you are not entitled to an award just because you tried.  Sometimes you will do your very best and still fall short.
I know I have.
And, it hurts.  Failure isn't fun.
It is, however, part of life.  It's part of learning, and fear of failure is no reason not to try.
"Don't you know that in a race all the runners run, but only one gets the prize?  Run in such a way as to get the prize."  (1 Corinthians 9:24)
It doesn't matter if the odds are stacked against you; do your best.
Stiff competition only makes you stronger.
Effort today only increases your chance of success tomorrow.
I can almost hear you asking me, "But what if I NEVER win?"
Then you need to remember why you're running in the first place.
Before you ever start, you need to decide why you do the things you do.  What's your goal?
If you're goal is simply a title or a trophy, you might feel your time and effort were wasted if you never win.
So you need to have a higher purpose.  You need to remember who you're trying to please.
Then do everything with him in mind.  You can bring glory to him whether you win or lose.  It's all about how you play the game, right?
"Whatever you do, whether in word or deed, do it all in the name of the Lord Jesus, giving thanks to God the Father through him." (Colossians 3:17)
————————————————–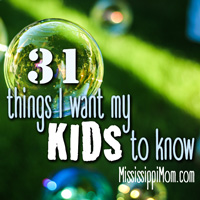 Don't miss the rest of the series "31 Things I Want My Kids to Know," which I'm writing as part of the Write 31 Days Challenge.