This post contains affiliate links to products mentioned. For more information, read my
disclosure policy.
My baby sister had a baby this week.  She's adorable.  (The sister and the baby.) And far away.  Fortunately, the baby's so cute you can almost smell the new baby scent through Instagram.
I called one of my other sisters yesterday just to tell her I knew what song we need to sing to the baby.  Her name will fit perfectly into a song from "The Music Man."
Of course, we may not see her until Christmas so we've decided to put her new song into our yearly performance of showtunes.  "Sisters" from "White Christmas" is our particular favorite.
Yes, we break into song and dance and don't even drink eggnog beforehand.
We have fun, y'all.
I want my kids to see it.  I want them to join in.
I want them to know that family is fun.
It isn't always easy.  Sometimes it's downright difficult.
But, the people in my family are so special, each unique and interesting.  Put their personalities together, and if there's not a crisis going on, the chaos is more than crazy.  It's comical.
I absolutely love having friends, and I want my kids to have them, too.
Just as much, I want them to enjoy each other, to look forward to time together.
Of course, I want them to love each other, but I also want them to like each other.
As a mom, I have to model this.
I have to take time to enjoy them, each of them, all of them.
We need to have family fun on a regular basis.
It doesn't have to be a night all planned out; they relish unplanned play.
Even our schoolwork each day is full of opportunities to show that I enjoy being with them and to encourage them to enjoy being together.
So, I need to take it slow, watch for the fun that's waiting for us, then seize it when I see it.
Even if it means I have to sing a few silly songs.
———————————————————————–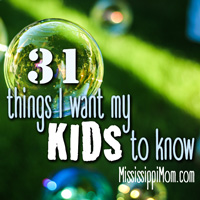 Just another of the "31 Things I Want My Kids to Know."  I hope you'll read the rest of them!
Also, if you need a bit of wisdom for the way, be sure to check out my series "31 Days of Wisdom for Moms Like Me," a month of inspiration from the book of Proverbs.