This post contains affiliate links to products mentioned. For more information, read my
disclosure policy.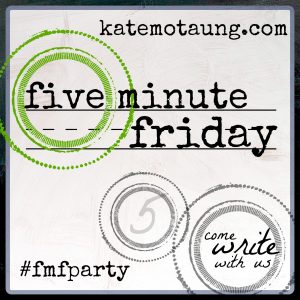 It's Friday!  Join us at Kate's for Five Minute Friday!  If today's post seems a bit fragmented and you find a few too many fragments, it's because it was written in small fragments of time interrupted by "Mommy!!!" and "Mamaaaa!!!" and so forth and so on.
Today's word:  When
When the daffodils are blooming….
give thanks.
When your children are playing….
give thanks.
When they stop playing and start fighting….
give thanks.
When the pile of laundry is taller than you are….
When the days are long, and the struggle is real….
When you are tired, lonely, stressed….
When it's raining….
When it's not….
Give thanks.
Because gray clouds can be gorgeous.
Because the voices still belong to your children, even when they're yelling.
Because the clothes you need to fold keep your family warm.
And, because in all things and at all times, God is good.
"Give thanks in all circumstances; for this is God's will for you in Christ Jesus." (1 Thessalonians 5:18)