This post contains affiliate links to products mentioned. For more information, read my
disclosure policy.
It's late.  We've been traveling all day, but I don't want to miss this opportunity to tell you something important and stick to my commitment to #write31days.
I want you to know that asking forgiveness is not always the hardest part.  Accepting it is.
There will be times when you know you have asked God to forgive you for some sin or another, but nothing you do or say or PRAY makes you feel forgiven.
Other times, the movie reel in your mind will replay scenes of your past sins nonstop, treating you to your own personal nightmare movie marathon.
There will also be times you find it difficult to walk in the freedom of forgiveness because the memories of other people make it difficult to move on.
Whatever the reason, keep this in mind:
Forgiveness is final.
It's done.
God won't take it back, and he's not holding it just out of reach.
He promises to forgive and then he forgets.
So, each time you feel the need to confess a sin AGAIN, keep in mind he doesn't remember your sin anymore.
Don't remind him of your sin; remind yourself of his son.
Instead of wallowing in guilt, start walking in grace.
Thank him.  Praise him.  Then honor him.
With your work.
With your words.
With your walk.
"For if we confess our sins, he is faithful and just and will forgive us our sins and cleanse us from all unrighteousness." (1 John 1:9)
—————————————————-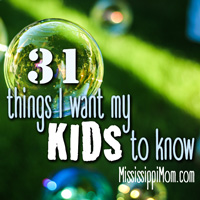 Be sure and check out the rest of "31 Things I Want My Kids to Know," as well as "31 Days of Wisdom for Moms Like Me."