This post contains affiliate links to products mentioned. For more information, read my
disclosure policy.
I have to be honest with you.
I am selfish.
I tend to be stingy with my time, my money and my energy.
Especially my energy.
There's only so much to go around, right?
And, needs are great.
Everywhere you look, everyone you meet needs something.
There's always another charity to support.
There's always another project to volunteer for.
There's always another need.
It can be overwhelming.
And tiring.
Then there's the whole issue of sacrifice.
It's hard.  It's supposed to be.
So, I want you to know that I have never regretted something I gave, but I have looked back with regret on times I held tight to something instead of handing it over.
Because giving is the gift.
I have to remind myself of that sometimes.  A lot of times.
I have to force myself to remember the joy of serving and the strength I gain from it.
I have to acknowledge that open hands are much less stressful than clinched fists.
I have to choose to remember that sacrifice is simply a chance to be like Christ, who set the supreme example of it.
And to remember the reason he did it.
"For the joy set before him."  (Hebrews 12:2)
———————————————————————–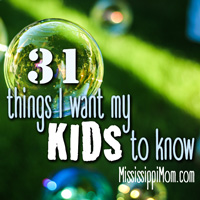 Thanks for reading these life lessons for my little ones!  I hope you'll join me for this 31-day journey!  I hope you and I will both be encouraged and challenged this month!

And, because giving is the gift, would you please consider supporting Merchant Ship Ministries?  Here's a great opportunity and a really cute shirt!