This post contains affiliate links to products mentioned. For more information, read my
disclosure policy.
If you've ever been to Sunday school, you have probably heard of a little something called "The Great Commission."  If not, here it is:
"Go, therefore, and make disciples of all nations, baptizing them in the name of the Father and of the Son and of the Holy Spirit, and teaching them to obey everything I have commanded you."  (Matthew 28:19-20)
Jesus said that.  I'm guessing he meant it.
We, however, tend to think he meant it for…
Preachers.
Pastors.
Missionaries.
People who are "called."
Let me tell you something:  they may be "called," but we are all commanded.
What's the command?  To go and make disciples.
You don't have to go to Africa to do that.
Disciple-making is a way of life.  Location has nothing to do with it.
As a mom, I'm making disciples every day because no matter what my kids grow up to be, I want them to be disciples of Christ above all else.
They're already making disciples, too.  Each time my oldest teaches some part of the truth to her little sisters and brother, she's being part of the process.
How can a nine year old be making disciples?  Because sharing Christ and teaching others about Him is a natural outcome of knowing him.  We overflow with the hope he has given, extending grace to others as it was extended to us.
We still have to be intentional about it though.  That's why there's a command.
So, go.
Somewhere.
To someone.
Today.
————————————————————————————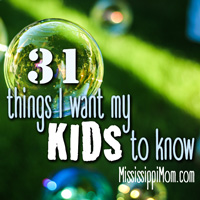 This month, I'm joining the Write 31 Days Challenge and writing "31 Things I Want My Kids to Know."  I hope you'll join me!