This post contains affiliate links to products mentioned. For more information, read my
disclosure policy.
I don't know if I was born a perfectionist or simply trained to be one, but either way, I grew up with high expectations….of myself.  I also lived with the high expectations of others because perfectionism seems to run in my family.
So, for me, grace has been a hard thing to "get."
Oh, I accepted it.
I have known the grace of God offered through Christ since I was a young girl.  I accepted that gift with the childlike faith of, well, a child.
But, it's taken all of my life to learn that grace is something to be lived in and relied on.
And that there's more than enough of it.
God's word says he has "lavished" his grace upon us, which means he's heaping it on, not just giving enough to get by.
You Can't Earn More Grace
Still, I've often lived like the well might run dry, like somehow I can do something to lessen the supply.
As if I earned it anyway.
You see, grace is "unmerited favor."
It's absolutely about God and not about me.
He gives grace.
Always it's a gift.
But it's not like the Kenyan coffee in my cabinet.  If I use more today, there won't be less tomorrow.
And that matters because….
God's Grace is Sufficient for You
I cannot be so weak he runs out of strength.
In fact, the opposite is true.  The weaker I am, the stronger he is in me.  Because my weakness (and my acknowledgment of it) gives him room to give me grace.  To meet my needs.  To be the source of strength in my life.
And, on my weakest days, I've always found:
His "grace is sufficient" for me, for his "power is made perfect in weakness."  (2 Corinthians 12:9)
—————————————————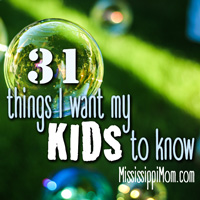 Join me this month as I take the Write 31 Days Challenge, sharing 31 Things I Want My Kids to Know.
And don't forget to read last year's series, 31 Days of Wisdom for Moms Like Me.