This post contains affiliate links to products mentioned. For more information, read my
disclosure policy.
Once, on the first day of a college English course, my professor had us write essays explaining who were our favorite authors and why.  Without hesitation, I wrote my essay about Dr. Seuss.  Why?  Rhyme, rhythm, alliteration…you name it.  The fact he can make up words and get away with it.  I love his books as much today as I ever have.  It's just that now I can pretend I read them for my kids.
Well, today is Dr. Seuss's birthday, and I just had to share the cookie cake my sister made for her son's class: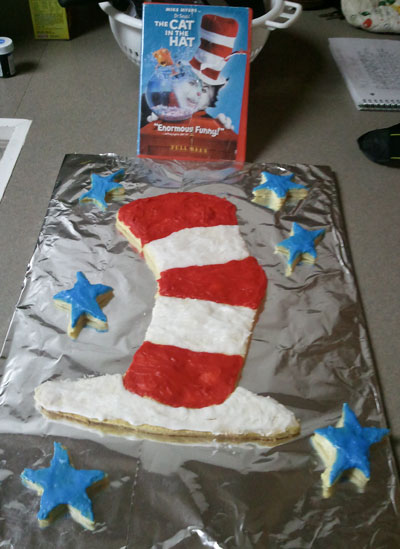 This precious cookie cake is very simple to make.  Just use your favorite sugar cookie dough, roll the dough out into a rectangle then carve into the shape of the Cat's hat.  Bake and ice with stripes…how easy is that!  And how cute!
Seriously, if you haven't got enough time to make your own dough today, stop by the store and pick up the pre-packaged stuff.  Sometimes, it even comes already rolled out in a rectangle!  Then, make this with the kids for tonight's dessert and read a few of your favorite Dr. Seuss books after dinner.
Here are a few of my favorites in case you need a little inspiration:
If you're interested in watching some of his work in addition to reading it, we LOVE:
And to further celebrate Dr. Seuss' big day, I'd like to give away one of my favorite books to one of you!  Six by Seuss was given to me by a good friend when I was preparing to move overseas after college.  She knew how much I loved Dr. Seuss, as well as how little room I had for books in my luggage, so she gave me her very own copy…the one her mother had read to her when she was a child!  It's precious to me, and the stories in the collection are classics, including:  And To Think That I Saw It On Mulberry Street, The 500 Hats of Bartholomew Cubbins, Horton Hatches the Egg, How the Grinch Stole Christmas, The Lorax, and Yertle the Turtle.
To enter, just leave a comment telling me what your favorite Dr. Seuss book is!  No entries after midnight Wednesday.  The winner will be randomly selected on Thursday.