This post contains affiliate links to products mentioned. For more information, read my
disclosure policy.
If there is one thing I hate to hear, it's the whining of these words:  "I'm bored."
Every mom who has found herself three weeks into summer vacation can probably relate.
It gets worse every year because our kids are so accustomed to being entertained.
Movies, games, tablets, computers, YouTube, Instagram, extra-curricular activities……
With our first child, we never dreamed of having a DVD player in our car, and she was just fine.  We played alphabet games, sang songs and passed the time together.
We caved with our new car though.  It came with a video system, and the result?  Our younger children ask for movies before we're even down the driveway.  They're itching for entertainment.
What they don't realize is the best source of entertainment is already inside them.
Imagination.
It turns a swing set into a space shuttle and can carve a castle out of a climbing tree.
It's the thing that takes a story and makes it gives you goose bumps.
Imagination is a treasure.  It enriches our experiences and enlivens our memories.  It helps pass time on planes…or really long road trips.
There's almost nothing we do that can't benefit from a bit of imagination.
Art actually begins with it.  Writing would be empty without it.  A dentist treating a tooth imagines what should be and then makes art with tiny tools.  An engineer sees the bridge in his mind long before someone drives across it.  All our creative efforts begin with our ability to imagine.
So, cultivate your imagination.
Read.
Explore.
Daydream.
A lot.
Let your mind wander and just see where it goes.
Relax and revel in it.
Who knows but that you might find the beginning of a great book.
You might see the colors of  a quilt that needs creating.
You very simply might spend a half an hour thinking long thoughts and dreaming deep dreams, and the reality you return to will be richer for it.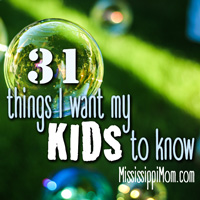 This post is part of my 31 day series "31 Things I Want My Kids to Know."  I hope you'll read along and comment!  I'd love to hear from you.
Also, be sure to check out last year's series "31 Days of Wisdom for Moms Like Me."