This post contains affiliate links to products mentioned. For more information, read my
disclosure policy.
Last week, I shared Why Jesus is the Most Important Thing You Can Blog About so I've spent some time pondering exactly how I am going to blog about Him.  After all, God convicts us to change us or lead us, and as I mentioned before, knowing how many people simply search for Jesus each month, convicted me.
Enter Encouraging Word Wednesday.
It's an idea I had some time ago.  A time and a place for encouragement from the Word.  Not just my words.  THE Word.    I'll be adding a link up each week, and I hope you'll share your recent encouraging posts that are inspired by Scripture.  I'd love to read them and share them, too!
Now, I'm sure you're wondering what this has to do with blogging specifically about Jesus, as opposed to other faith-based topics.  Well, I'm glad you asked.
Each week (at least through Lent),  my Encouraging Word Wednesday post will focus on one of the names of Jesus.  If people want to know who He is, what better way to tell them?
And I couldn't think of a better name to kick off Encouraging Word Wednesday than this:
The Word.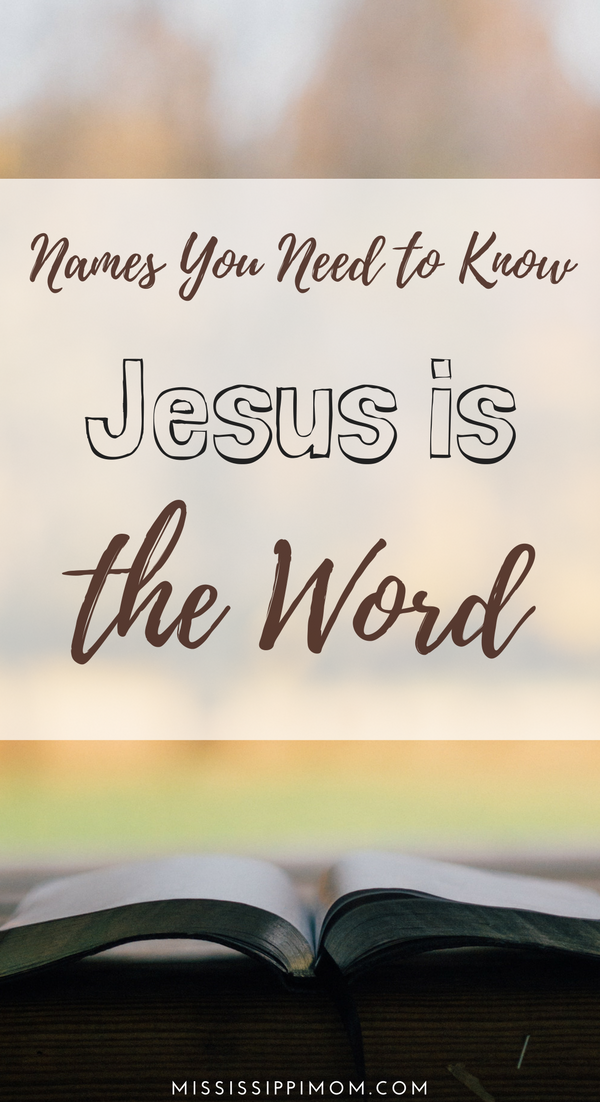 Jesus is The Word.
John tells us so when he writes, "In the beginning was the Word, and the Word was with God, and the Word was God.  He was with God in the beginning…The Word became flesh and made his dwelling among us." (John 1:1 & 14)
We see this name again in Revelation 19:13, which says, "He is dressed in a robe dipped in blood, and His name is the Word of God."
But what on earth does that mean exactly?
And why does it matter to us that Jesus is the Word of God?
To understand, we have to remember God's relationship with his people.  As early as Abram (long before he became Abraham), "The word of the Lord came" to him (Genesis 15:1) and revealed God's plan for his people.  His word revealed his relationship with them.
Throughout the time of the prophets, "the word of the Lord came."  It was God's way of communicating with his people.  It was his way of showing them how to live and what to do.  His word revealed his will.
Time and time again throughout Israel's history, God chose prophets to speak his word to the people.  Men like Isaiah, Jeremiah, Daniel, Hosea.  Major ones.  Minor ones.
And then the final ones.
Malachi.  Nehemiah.
Then…Nothing.
400 years of absolute silence.
No word from God came until the Word of God came.
Because "In the past, God spoke to our ancestors through the prophets at many times and in various ways, but in these last days, He has spoken to us by His Son, whom he appointed heir of all things and  through whom also He made the universe.  The Son is the radiance of God's glory and the exact representation of his being, sustaining all things by his powerful word." (Hebrews 1:1-2)
You see, in the past, God spoke through  prophets to reveal himself to mankind.  Christ was the full revelation.  After all, Jesus said, "Anyone who has seen me has seen the Father." (John 14:9)
From the moment he took his first baby breath, God was showing us the way; He was showing us His will.
Jesus was the ultimate love letter to a lost world.
But Why Does It Matter to Us That Jesus is The Word?
He set examples for us to follow, examples of
goodness
grace
strength
mercy
obedience
love
life.
He showed us the power of God and then shared it with us through His Spirit.  He explained the things to come.  He made promises, and he keeps them.
How do we know?
Because "No word from God will ever fail." (Luke 1:37)
And neither will He.
You can trust him.
Y'all, he doesn't change.  Your circumstances might change.  Your needs might change.
His ability to meet them never does.
He was the Word in the beginning.  He'll be the Word at the end.
And we can trust Him with everything in between.
###
As I was thinking about and planning this post, I came across a piece by John Piper that I wanted to share with you.  He writes, "Jesus himself—in his coming, and working, and teaching, and dying and rising—was the final and decisive Message of God. Or to put it more simply: What God had to say to us was not only or mainly what Jesus said, but who Jesus was and what he did."  I love that!  I encourage you to read the article here.
What does it mean to you that Jesus is The Word?  I hope you'll leave a comment.  I'd love to hear from you.
I would also LOVE for you to leave a link to an encouraging post that is Scripture-based.  If you do, please visit one other link and leave a comment!.  Thank you!