This post contains affiliate links to products mentioned. For more information, read my
disclosure policy.
We went trick or treating tonight, and as I saw the flickering of light peering from pumpkins, I was reminded of something I want you to know:
Light shines in darkness.
That's what it does.
The darker it is the more impact of a little light.
I lived in Kenya during a time of severe drought, and power rationing was a way of life.  My small flat had electricity from about 10 p.m. until 4 a.m.
Needless to say, I used a lot of candles.  I also learned a lot about light.
You see, the darkness that surrounded me was about more than just the lack of electricity. 
The spiritual darkness was every bit as deep as the dark night.  And, I was just a little light.
But a little light goes a long way.
Jesus said, "Neither do people light a lamp and put it under a bowl. Instead they put it on its stand, and it gives light to everyone in the house." (Matthew 5:15)
There is a great deal of darkness in this world.  You can feel it pressing in at times.  I know I did.  I remember one night when the realization that I was the only little light in that particular place almost overwhelmed me.
Fear.  Doubt. Darkness.
I felt my little flame flickering.
But it did not go out.
Because "The light shines in the darkness, and the darkness has not overcome it." (John 1:5)
No amount of darkness can put out the light of Christ.
And, the darker the world seems, the brighter he shines.
Because in a world of despair, he is hope.
In a time of problems, he is peace.
In a place of weakness, he is power.
And you are his.
So let your light shine.
—————————————————–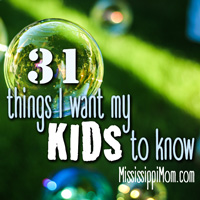 October ends tomorrow.  I can't believe this series is almost complete!  Please be sure and read the rest of "31 Things I Want My Kids to Know."  I've been so encouraged and challenged writing them.  I hope you'll be encouraged, too!