This post contains affiliate links to products mentioned. For more information, read my
disclosure policy.
That's right…homemade butter!  My daughter and I have been reading Little House in the Big Woods by Laura Ingalls Wilder.
And for some reason, this book always makes me hungry.  I think it's the idea of playing in an attic full of food.  Read it…you'll see…just be ready to have an unseasonal craving for pumpkin pie.  I'm just sayin'.
Anyway, as we were reading the other night, I had the bright idea to try to do and make some of the things described in the book.  I've always loved the description of Ma Ingalls making the pretty little yellow pats of butter so I did a quick search for "making butter easy" and found out that it actually is!
Now, before I go on to the explanation of the somewhat simple process, let me just say that I realize Ma Ingalls actually churned her butter.
Whilst I went a much easier (and I'm sure quicker) route with my Kitchen Aid.
There are definite advantages to living in the 21st century.
Either way, the result was the same….creamy, yellow butter!
Here's the way we did it:
Pour one pint of heavy cream into your mixer and begin to beat it.   When it starts thickening, increase the speed as you would for whipped cream.  When the cream is whipped, keep going but watch carefully because as the butter solids start to separate from the milk, you'll need to slow it down (unless you happen to want buttermilk all over your kitchen…ask me how I know…).  It took somewhere between five and ten minutes for the butter to separate.  (I can't say for sure because a kid called and when I came back there was butter….it doesn't get much easier than that!)
When the butter is separated from the buttermilk, wash it in cold water until the water runs clear. You can also work in a little salt at this point, but I forgot to do so.  Serve on fresh bread, store in the fridge…whatever!  Delicious.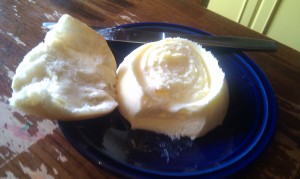 And, the liquid in the bottom of your mixer?  Yes, it's buttermilk.
I had exactly one cup left…the perfect amount for a red velvet cake….Funny how making your own butter gets you in the mood to bake something….but that's "a-whole-nother" post.
Enjoy!