This post contains affiliate links to products mentioned. For more information, read my
disclosure policy.
Need a quick, easy and healthy side dish this week?  Try these simple sweet potato fries.  They prove that sweet potatoes can do more than casseroles.  I usually serve them with sandwiches or burgers, but sometimes, we just eat them all by themselves.  Here's what you do: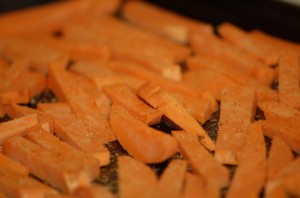 Take a few sweet potatoes and wash them really well.  (You can peel them if you like, but I like the extra crunch the peel adds when they're cooked.)  Slice them into strips or wedges.  (You can go as thin or thick as you prefer, but the thicker they are, the more difficult it is to cook them evenly.)  Spray a baking sheet with cooking spray (I use canola or olive) then sprinkle seasoned salt on it.  Arrange sliced sweet potatoes on the baking sheet in a single layer.  Spray tops of potatoes with cooking spray then sprinkle more seasoned salt.  (You can add as much seasoning as you like.  If you prefer a little spice, substitute cajun seasoning.  Or keep things simple with a little sea salt.)
Broil on high for 10-15 minutes.  Watch carefully to avoid burning them!
Enjoy!