This post contains affiliate links to products mentioned. For more information, read my
disclosure policy.
You fought hard today.  All day.
No matter what punishment I handed out, your response was "I don't want……."
Really?  You don't want your punishment?
I'm shocked.
No matter how badly you didn't want to be punished, you still disobeyed.
If I could teach you anything today, it would be this:
Obedience is easier.
Do the thing the first time because you will do it in the end.
And the meantime won't be much fun.
It's not just about wanting you to obey me, though that would make our days easier. It's about your learning the freedom only obedience brings.
Because you will always need to obey.
One day, you'll be grown, and I won't be the boss of you. But He will.
You will still be subject to the authority of God.  He will speak to you and command you of the way in which to walk, and I can promise you this:
No matter what the path may look like, obedience is easier.
Because it's what you're created to do.  To walk in obedience and in fellowship.  All your efforts not to will be a much harder struggle than any difficult thing he might tell you to do.
As his child, you have his yoke upon you, but even a yoke that is light is painful if you pull against it.  That's what disobedience is, my dear.  It's straining against what God has for us.  It's painful.  It leaves us broken and bruised.
And, surrender is what saves us.
God has a plan for you, and  surrendering to it sets you free to flow in the river of his grace, rather than struggle against it.
That's the freedom we find it obedience.  Things can move more smoothly when we work with him.
It's like the terrible traffic I tell you about every time I come home from Kenya.  At some point in my trip, my friend or I will always say, "This would be so much easier if people just followed the rules."  Traffic would FLOW.  Things would move.  And, we might just get where we're going.
You might, too.  And, the ride will be much more enjoyable.
——————————————————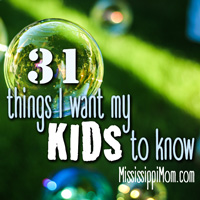 Notes:
"31 Things I Want My Kids to Know" is a 31-day series of life lessons for my little ones.  I hope you'll follow along this month!  You'll find more great 31-day bloggers at Write31Days.com.  Check it out!
Also, check out last year's series, "31 Days of Wisdom for Moms Like Me."
Linking up with a new blog I came across this week:  MeCoffeeandJesus.com – Sounds like my kind of place!