This post contains affiliate links to products mentioned. For more information, read my
disclosure policy.
Let's face it:  relationships are hard.  Even the best of them.
If you know someone long enough and well enough, they will hurt you.
They're people.  Perfectly imperfect in every possible way.
Sometimes it would be easier to just go your own way and forget them.
But don't.
Because people are worth it.
They're worth the effort…
to get to know them….
to let them get to know you….
to get past the surface and find out who they really are….
to show them who you really are….
to offer them grace when they fall short….
and to accept the same from them.
I'm not saying every person you meet needs to be your best friend.  Some won't even be your friends at all.
But….
Don't be quick to give up on someone.
Don't be ready to run away from relationships.
Don't be too hasty to hang it up.
Because relationships are hard, but people are worth it.
They challenge us.
They encourage us.
They comfort us, too.
And, there will be so many times we can do the same for them.
Which is what makes relationships beautiful, isn't it?
The give and take.
The serving and being served.
The opportunity to "have the same mindset as Christ Jesus, who being in very nature God, did not consider equality with God something to be grasped, but considered himself nothing, taking the very form of a servant…" (Philippians 2:5-7)
You see, Christ thought people were worth it.
So worth it, in fact, he died for them.
———————————————————-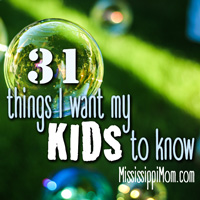 Keep reading with me this month! I hope you'll join me for this 31-Day series: 31 Things I Want My Kids to Know!
And, if you're needing some wisdom from the word, check out 31 Days of Wisdom for Moms Like Me.