This post contains affiliate links to products mentioned. For more information, read my
disclosure policy.
You may not know it now when reading often feels like work, but reading a book can transport you to another world, immerse you in another culture and broaden your horizons.
It's like traveling in an armchair.
From the first words of some books, I am gone 'til some tiny hand pulls me back.
"It is a truth universally acknowledged…"
"There was a boy called Eustace Clarence Scrubb, and he almost deserved it."
How can you NOT want to know about that?
I've never been to Prince Edward Island, but I promise I know its pathways and places.  I've walked them in words.
The richness of the words of a well-written book simply washes over you, drawing you in again and again until those words become part of you.  You see the story then you see yourself in the story.
The story becomes part of your story.
So, read.  Read a lot.
Read the books I assign then read the books you want.
Give a book a chance because you know the cover tells you nothing.
Relish the words.
Search out the secrets.
Explore the world in the pages as readily as you explore the world outside them.
Let reading make you richer.
——————————————————————-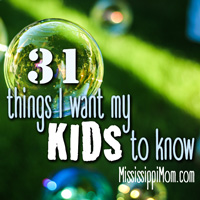 "Reading Opens Worlds" is part of my Write 31 Days series called "31 Things I Want My Kids to Know."  I hope you'll join me for the rest of the series.
Also, be sure to check out "31 Days of Wisdom for Moms Like Me" because a little wisdom goes a long way!