This post contains affiliate links to products mentioned. For more information, read my
disclosure policy.
So, we took the kid to the Natural Science Museum to check out the newest exhibit, "Animal Grossology," which will be around until the end of the year. I'm glad it will be around for a while because they're already asking to go back.
What is "Animal Grossology," you ask?  Well, let's just say it's definitely gross.  But, it's a whole lot of fun, too!  It's actually one of the most interactive exhibits the museum has had in awhile, and all of our kids loved it…even the eight year old who made the age-appropriate, girly "gross!" faces but enjoyed herself immensely anyway.
As for our four year old, who loves to talk about anything and everything related to poop, he was in a little boy's dream world, full of animals and all the gross things they do from day to day.
The exhibit explains many of the bodily functions of animals around the world, from dung beetles to penguins and everything in between.
Our kids loved playing this game, in which you shoot the baby frogs (balls) from the mouth of a large frog and try to land in the holes.  If there hadn't been other kids who deserved turns at playing the game, my kids would have stayed there all day.  Seriously.
The exhibit is filled with little facts, gross to read but good to know!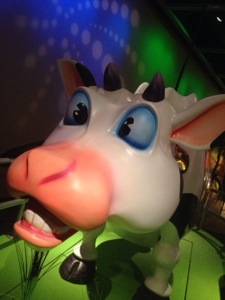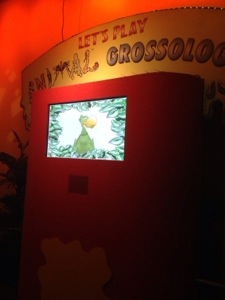 There are interactive games that allow kids to play (and compete!) while they learn.
The information this fly offers has my daughter a bit freaked out still. Fly swatting has become a passionate pastime for her lately.
Then there was this…a good visual for what happens when we're bitten by ticks, spiders and mosquitoes.
Overall, even with all of the "gross," our family found this exhibit to be one of our favorites so far.  Be sure to visit the Museum of Natural Science soon so you can check it out!