This post contains affiliate links to products mentioned. For more information, read my
disclosure policy.
I was feeling a bit crushed today.  By time. By commitments.  By the weight of my own expectations.
Out of strength and broken.
Then I remembered the beauty of brokenness.
I see it in….
The usefulness of an egg after it's been cracked.
The flavor of freshly ground coffee.
The aroma of vanilla being scraped from the bean.
The beauty of brokenness displayed daily as things are poured out into purpose.
While there are certainly times we simply overflow…
With joy…
With God's spirit…
With His love…
There are other times we must be poured out….as an offering.
It's one of the ways we worship, this offering not just our strength but our weakness as well, this allowing God to use even the painful parts for his purpose.
That's when healing happens.
When he takes what was meant for evil and uses it for good.
When our weakness meets his strength.
When we lose our lives so we can gain them.
The beauty of brokenness is seen best in the blood.  Poured out in pain and perfect in power, the blood of Christ did what nothing else could.  It cleansed us.
It took what was filthy and made it fine.
We became conquerors because Christ died on the cross.
We became healed because he was hurt.
He set the example of laying life down, of holding nothing back, of being broken beautifully.
—————————————————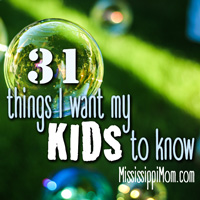 October is almost over so my series "31 Things I Want My Kids to Know" is almost finished.  If you haven't, I'd love for you to read the rest of the series!  I'd also love to hear from you so leave a comment if you can.
I'm sharing this post at the Grace and Truth Link Up.  Visit for encouraging posts from Christian bloggers, and if you blog, join the party!