This post contains affiliate links to products mentioned. For more information, read my
disclosure policy.
October 31.
31 days come and gone, and how to end it?
The list I made at the beginning of the month is crumpled and full of cross outs and additions.  With one day left, what do I say?
Of all the things I want you to know, this is the most important:
Jesus.
"I keep asking that the God of our Lord Jesus Christ, the glorious Father, may give you the Spirit of wisdom and revelation so that you may know him better. I pray that the eyes of your heart may be enlightened so that you may know the hope to which he has called you, the riches of his glorious inheritance in his holy people, and his incomparably great power for us who believe."  (Ephesians 1:17-19)
Because if you know him, ever increasing in your knowledge of him, you will learn how to live.
His word will guide you.
His character will shape you.
His Spirit will convict you.
His grace will be enough for you.
And his presence will never leave you.
Wisdom comes from him.  All good gifts do, too.
So, if you know anything, know him.
Know Jesus.
To know him is to love him.
What more could I want for you?
——————————————————————–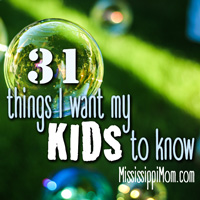 This is the final post in my series "31 Things I Want My Kids to Know."  I want you to know them, too, so I really appreciate your reading along with me.  I hope you'll be sure to read the other posts in the series and check out last year's series "31 Days of Wisdom for Moms Like Me," too.
Also, do visit the Write 31 Days Challenge.  There's a wealth of writing over there!