This post contains affiliate links to products mentioned. For more information, read my
disclosure policy.
If asked, many people will say, "Sure, I believe in God."  The problem is they don't believe Him.
What's the difference, you ask?
Well, believing in God is acknowledging his existence, but believing him is so much more.
It's taking him at his word.
One of my favorite Bible studies is Believing God by Beth Moore, and I always try to remember the five things that study stressed.  They are:
God is who he says he is.
God can do what he says he can do.
I am who God says I am.
I can do all things through Christ.
God's word is alive and active in me.
Believing God is more than just knowing he is real or that the Bible is his book.  It's reading the words in that Bible and living life based upon them.
It's accepting what God says about our sin, believing he is holy and we are not.
It's relying on the fact he will forgive us, that he can make us completely clean.
It's walking a new way, knowing I am a new creation in Christ.
It's facing challenges with faith, trusting Christ will help me overcome them.
It's letting his word take root deep inside me, producing fruit in how I live.
Believing in God can be the beginning of our relationship with him; believing him is how it grows.  It's how we see our need for Christ and how we follow him daily thereafter.
It's how we can move on from the past because we believe his blood has covered it.
And, it's how we can face the future with faith because we believe what he says about it.
——————————————————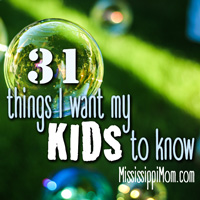 Thanks for reading!  I hope you'll join me for the rest of the "31 Things I Want My Kids to Know," a 31-day series which is part of the Write 31 Days challenge.