This post contains affiliate links to products mentioned. For more information, read my
disclosure policy.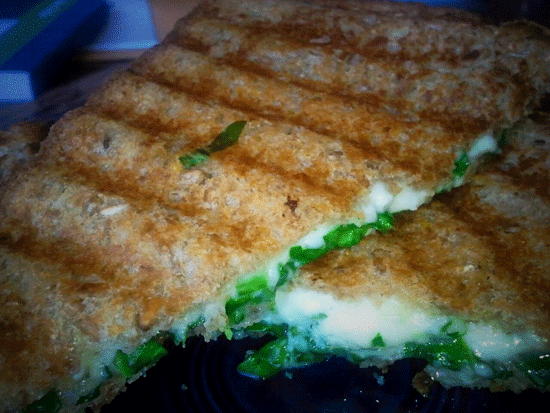 Let's be honest….almost everyone loves a good grilled cheese, right?  Especially when soup season comes around.  My kids love them, and they eat them crust and all.  I like them, too, but lately, I've been experimenting with more grown-up versions of the grilled cheese.  Let me share a very easy and delicious one with you.
First, take a handful of spinach and bunch it up tightly and cut it into tiny, thin strips.  Then butter the outside of two pieces of bread.  Any bread will do, but I like to use something more "grown-up" than simple whole wheat bread.  I used a nutty, grain bread this time, but experiment with whatever you like.
Sprinkle some crumbled feta cheese then the spinach then a little bit more feta on one slice of bread.  Top with the other slice.  Grill however you like…I use my old George Forman grill to press the sandwich like a panini.  It gives it ridges and everything!  (If you've never thought of that, don't worry, I hadn't either until recently…I guess today you get two tips for the price of one!)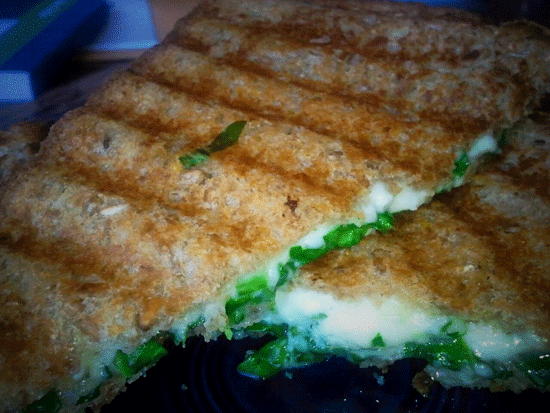 You can experiment with different types of cheese, bread and other ingredients.  Brie melts beautifully into a grilled sandwich, I think.  And, goat cheese?  Well, goat cheese is good in almost anything, right?
Enjoy!