This post contains affiliate links to products mentioned. For more information, read my
disclosure policy.
And sometimes if it doesn't.
Before I left for Africa, I was surprised by the number of people who hinted that I should pack a suitcase full of granola bars.  When I laughed, they asked, "But what will you eat?"
Here's the truth:  I love Kenyan food.  Always have.  The country is filled with fresh produce.  The fruit is fabulous (except the watermelons…they're not from Smith County so they just won't do).  Spices are fresh and abundant.  And, in Nairobi, there's no end to the variety of foods you can find.
Let me show you just a sampling….
Githeri, sukuma wiki and rice.  Githeri is a mixture of beans and maize, while sukuma wiki is collard greens like you've never had them before.  Trust me.  I may be from Mississippi, but I don't eat greens.  I don't even like to smell them.  Sukuma wiki is another story.  It is flavored with a little something called mchuzi mix, and it is delicious, usually cooked with onions and tomatoes.
Roasted maize…or Kenyan fast food.  People roast it over charcoal on the side of the road. You drive over, hand them 20 shillings and get lunch.  If you visit Kenya, get some.  You'll be so glad you did.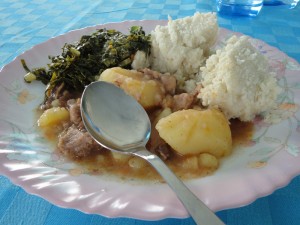 One of the ministries we visited served us this delicious lunch of beef stew, ugali and sukuma wiki.  Ugali is made of corn flour and water and is a very thick (almost bread-like) substance that is especially good paired with sukuma wiki.  It doesn't have much flavor, but it does complete the meal.  (Note: ugali is very difficult to make in the U.S. because the cornmeal we have is not like the flour used in Kenya to make it.  The closest I've found is in the Mexican food aisle and is used for making tortillas…still not quite the same.  I bring the flour home with me from Kenya, along with mchuzi mix for the sukuma wiki…it's so good!)
The drink that started it all.  Seriously.  There was a time when I didn't like coffee.  Until I had…THE BEST LATTE EVER.  Nairobi Java House has some secret to making a latte that I need to learn.  So does every coffee house I've ever been to because these are the best in the world.  It could be the freshly roasted Kenyan coffee.  Or the full-fat fresh milk.  (They don't even ask if you want skim.)  It could even be the really cool, clear mugs.  Whatever it is, do NOT go to Nairobi, Kenya and not get a latte at Java House.  Even if you don't like coffee, you will be converted.  I know I was.
Tilapia.  Fresh from Kenya's lakes.
Okay, this is actually something I don't like, but many people do.  Stoney is a ginger beer that leaves your throat tingling, and I'm told can help tame your tummy.  You should try it….at least once.
And finally…a very happy accident.  After a long day, we were having coffee when my friend said, "I want chocolate."  (God blessed me with a perfect traveling companion.)  We tried ordering several things that were already out for the day when we chose the Mocha Rollado simply because it said it was served with whipped cream.  We were envisioning a dollop of whipped cream on top of some sort of chocolate dessert when this appeared.  That, my friends, is a mound of whipped cream topped with a little chocolate.  We just started smiling, and Melissa said, "Whipped cream makes me happy."  Me, too, my friend.  Me, too.
I wish I had photos to share with you of the night some of our friends took us to Diamond Plaza for Indian food.  Y'all it was delicious.  Two words:  Bhajias and Naan.  And, the most fun atmosphere.  Asian Indian shops all around…I saw the most perfect and precious punjabi suit for my daughter.  I can't wait to take her shopping there.
And, yes, I did gain a couple of pounds in Kenya.  It could have been the lattes…but I'm guessing it was the Coke.  I don't usually drink a lot of soft drinks.  We don't buy them very often or keep them in our house, but when I am in Kenya, I drink Coke.  Served ice cold in a glass bottle, made with real sugar and not corn syrup…it's the best Coke in the world.  I think it's even won that award quite a few times.  If you go to Kenya, please drink some for me.
(And don't worry…tomorrow I'll post about something more important than food….)