This post contains affiliate links to products mentioned. For more information, read my
disclosure policy.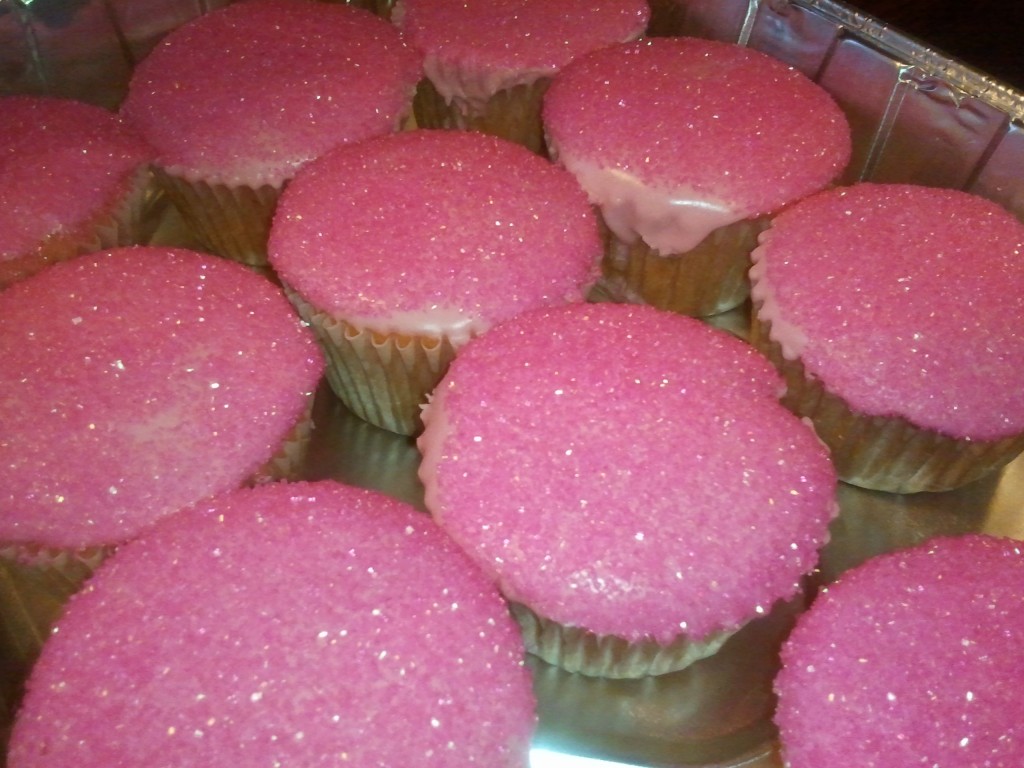 Some things just call for cupcakes, don't you think?  I do.  But, to be honest, I don't have a lot of time (or energy) these days for baking and decorating…
That, however, does not prevent the creation of beautiful cupcakes…quick.
Here's what you need:
Your Favorite Cake Mix
Your Favorite Frosting
A bowl
A Microwave
Sprinkles
Here's what you you do:
Bake those babies!  I used two boxes of cake mix this time, making 48 cupcakes.  Let them cool.  Meanwhile….
Dump your frosting into a microwave safe bowl.  Though I used two boxes of cake mix, this project only required one can of frosting.  More on that later…
That bowl full of frosting?  Melt it.  Put it in the microwave for 30 seconds-one minute and stir it around.  Then….
Take your cupcakes, one by one (or two at a time if you're more skilled than me), and dip/swirl them in the melted frosting.  IF you don't believe how easy this is, you'll notice (I hope!) that that's my husband's hand doing the dipping/swirling.  He actually did most of them.
Not a great photo, but just to show you that after you dip/swirl, just kind of swirl it around as you lift it out to let the excess run off.
Place the cupcakes on a cookie sheet or cooling rack or whatever while you finish dipping each of them.  Then….
Get your sprinkles ready!  Gently roll the top of each cupcake in the sprinkles until it is uniformly covered…and you're done!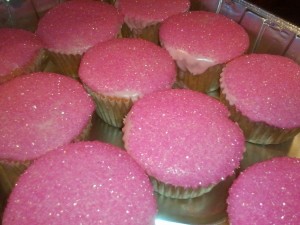 See?  Perfect.  And pink.  You could also….
Just swirl the edges.  This would be particularly cute, I think, if you had the kind of sprinkles commonly found on ice cream cones.
So, there you have it…cute and EASY cupcakes!  Here are few more reasons I'm a fan:
Did I mention that I used one can of frosting for two boxes of cake mix?  When piping icing on cupcakes, it takes a LOT of frosting to get that perfectly mounded swirl.  This method requires much less, which means…
Kids don't get quite as much icing…which means a bit less sugar…which is probably a good thing, right?
There is much less mess to clean up.  No piping bags or tips.  No spatulas.  And, to be honest, even with all the swirling and dripping, the icing pretty much just stays in the bowl.
And, while we're talking less mess…there's not quite as much icing all over the kids.  And, I LOVE that.
So, the next time you're in a cupcake crunch ("What?  Tomorrow's Sweet Day?"), give this method a try.  I bet you'll like it.  I know I do.  It works for me!
For more ideas, tips and tricks, be sure to visit wearethatfamily.com today!