This post contains affiliate links to products mentioned. For more information, read my
disclosure policy.
This post contains affiliate links to products mentioned. For more information, read my

disclosure policy.



Before I tell you how to make the best whole wheat pancakes ever, I have to start this post off with a confession:
I don't like breakfast.
I never have.  I just don't like to eat first thing in the morning.
Oh, I like breakfast foods, but I prefer to eat them for brunch.  Or snacks.  Which leads me to another confession:
I hate to make breakfast.
At breakfast time anyway.  Truly, I roll my eyes almost every morning with the first "I'm hungry" I hear.
The thing is:  no matter how much I would rather skip it, my kids need to eat breakfast.  Every.  Single.  Day.
So, I keep a few things on a short list of easy (yet tasty) breakfast ideas, and these whole wheat pancakes are one of them.  They are a go-to recipe because they are light, fluffy and absolutely delicious.  My kids love them.  And, I can almost make them in my sleep, which is good because usually when I start flipping pancakes, my coffee isn't ready yet.
Don't those look delicious?  You know you want to make some.  Here's how:
How to Make the Best Fluffy Whole Wheat Pancakes:
First, you'll need to gather your ingredients, which is easy because there really aren't that many of them.
Ingredients:
3/4 Cup Whole Wheat Flour
1/4 Cup All-Purpose Flour
1 Tablespoon Brown Sugar
1 Teaspoon Baking Powder
1/4 Teaspoon Baking Soda
1/4 Teaspoon Salt
1 Egg, Beaten
1 Cup Buttermilk (or 1 Cup Milk with 1 Tablespoon of Vinegar Added)
2 Tablespoons Vegetable Oil
(Note:  I have used all whole wheat, as well as half whole wheat flour and half all-purpose flour.   Figure out the combination you like best!  You can also make regular buttermilk pancakes by using 100% all-purpose flour and white sugar instead of brown.)
How to Prepare Your Whole Wheat Pancake Batter
Combine flour, sugar, baking powder, baking soda, and salt in a large bowl and stir together with a whisk for about a minute or so.  I think this is important because it acts like sifting the ingredients would and incorporates air, which is important if you want fluffy pancakes!
Make a well in the dry ingredients and add the milk, egg and vegetable oil.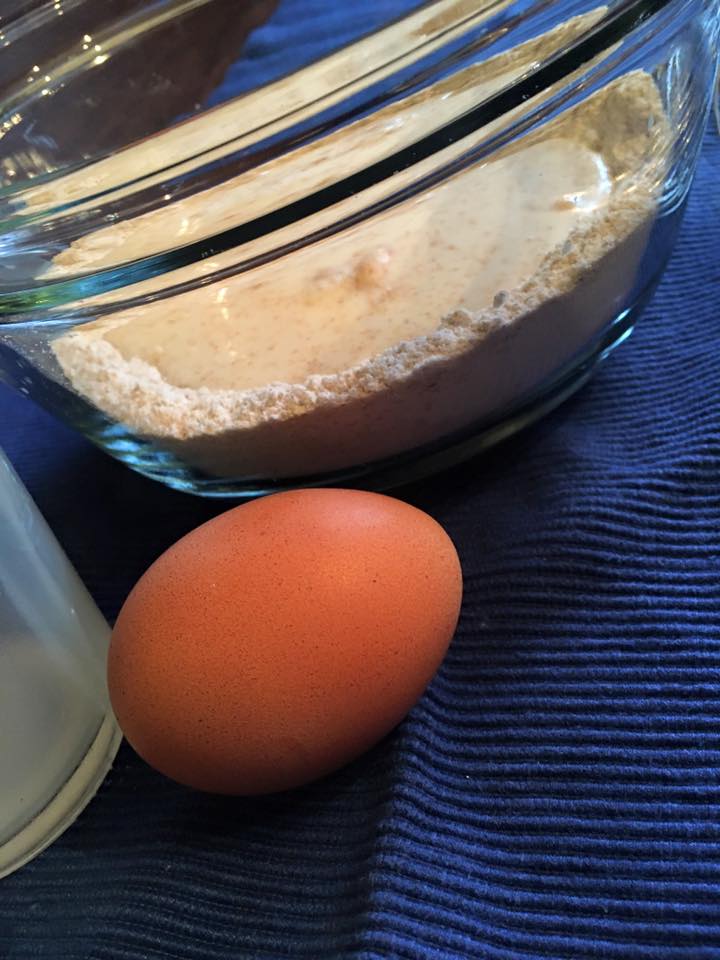 Be sure and beat the egg a bit first!  (I just love our pretty, brown eggs from our chickens!)
Now, add that egg in!
And your vegetable oil….
Now, mix everything together just until it is combined.  You don't want to over mix it, and it is ok to have some lumps in the batter.
Now, it's time to cook the whole wheat pancakes.  This is the part that takes a little while.  Not too long, but it can be a bit tedious, especially if you have a large family.  I usually double this recipe for my family so I'll have a few pancakes left over in the fridge for the kids to eat for breakfast on busy mornings.  You can also make these whole wheat pancakes and freeze them.  All you have to do is pull them out in the morning and pop them in the microwave to heat.  (I suggest wrapping them in a paper towel or a kitchen towel so they will not dry out.)
How to Cook Your Fluffy Whole Wheat Pancakes
On your stovetop, over medium heat, pour 1/3 cup of batter onto a hot, greased griddle or heavy skillet.  (I have one made by Calphalon that I love!  The one in the link is square, but mine is round – it was a wedding gift, umm, "several" years ago so I couldn't find an exact match to show you.)
Let the pancake cook for about two minutes until it starts to get bubbly.
Then, flip it!
Cook for another couple of minutes and remove from heat.  Serve warm with butter and maple syrup.
Enjoy!