This post contains affiliate links to products mentioned. For more information, read my
disclosure policy.
I'm sitting here this morning, listening to the sounds of you.  All of you.  All the sounds.  There's laughter.  There's not.  There are a million little sounds that mean nothing and everything.
The sound of toy strollers racing down the hall.
The sound of rushing water because you're playing in the sink….again.
The sound of someone filling her own cup, making me coffee…growing up.
All the sounds that make our mornings.
And, I think:  What do I want you to know today?  What do I want you to know forever?
And the very first thing is this:
YOU ARE LOVED.
I love you in the crazy as much as in the quiet.
I love you when you listen, as well as when you fight.
I loved you as a baby, and I love you as you grow.
But as much as I do love you, there's something you should know.
There is a love that's deeper still, a love that never fails.
A love that's proven by the cross and by the driven nails.
He's loved you since the dawn of time.  He'll love you even when
You turn your back then turn around and run to him again.
So, don't forget and never doubt, there's nothing you can do
To change the fact, and it is true, God really does love you.
—————————————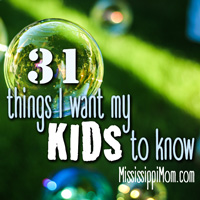 Keep reading with me this month!  I hope you'll join me for this 31-Day series:  31 Things I Want My Kids to Know!
And, if you're needing some wisdom from the word, check out 31 Days of Wisdom for Moms Like Me.