This post contains affiliate links to products mentioned. For more information, read my
disclosure policy.
This post contains affiliate links to products mentioned. For more information, read my
disclosure policy.
Also known as "The World's Best Sugar Cookies."  Or at least that's what I call them.
Seriously.  I love a good sugar cookie, and these really are the best.  They are soft and chewy, but if you roll them thinner, they will be crispy if you like cookies that way.
The best thing is that this recipe requires no chilling, which means you do not have to plan ahead!  So, when it's about 7:30 p.m. on Christmas Eve and your kids remind you that you haven't made cookies for Santa yet, you are all set with these.
I've written before about how my mom used to make Christmas cookies for us each year so this year, I thought I'd share with you an easy way to decorate your cookies like a Christmas wreath.
To do so, you'll need your favorite icing recipe.  Now, I love a good buttercream icing on sugar cookies, but at Christmas, I usually use royal icing.  I like the way it hardens, and if you thin it a bit and put it in squirt bottles, kids can easily take part in the decorating.  If you want to use royal icing, the best place to look for instructions is Bake at 350. Bridget gives such great instructions, and ya'll, her cookies are gorgeous!  The cookie recipe below is an adaptation of the one she has on her site.
Now, I did not follow Bridget's instructions very well this year (probably because I was constantly stopping to say, "Not yet!" and "Put that down, please.") so my icing work on these cookies is a little less than perfect.  Okay, it's a lot less than perfect, but I still think the cookies are pretty and the method is definitely worth sharing.
To Make Christmas Wreath Sugar Cookies
Mix up your sugar cookie dough (using the recipe below or your favorite recipe) and roll it out on a floured surface.  At this point, I chose to use a scalloped-edge round cookie cutter.  You can use a plain one if you like.  I have a set similar to this 
that worked perfectly for these cookies:

First, cut the cookies out using one of the larger cutters then take one at least two sizes smaller and make an indention in the center of each cookie, like so:
This will provide the guide you need for piping the icing.  Don't press it completely through the dough or you'll have donuts.
Now,
 just bake the cookies as you normally would.  Once they have cooled, use your icing to outline the center circle and the outer edge.
Next, fill in the rest of the wreath: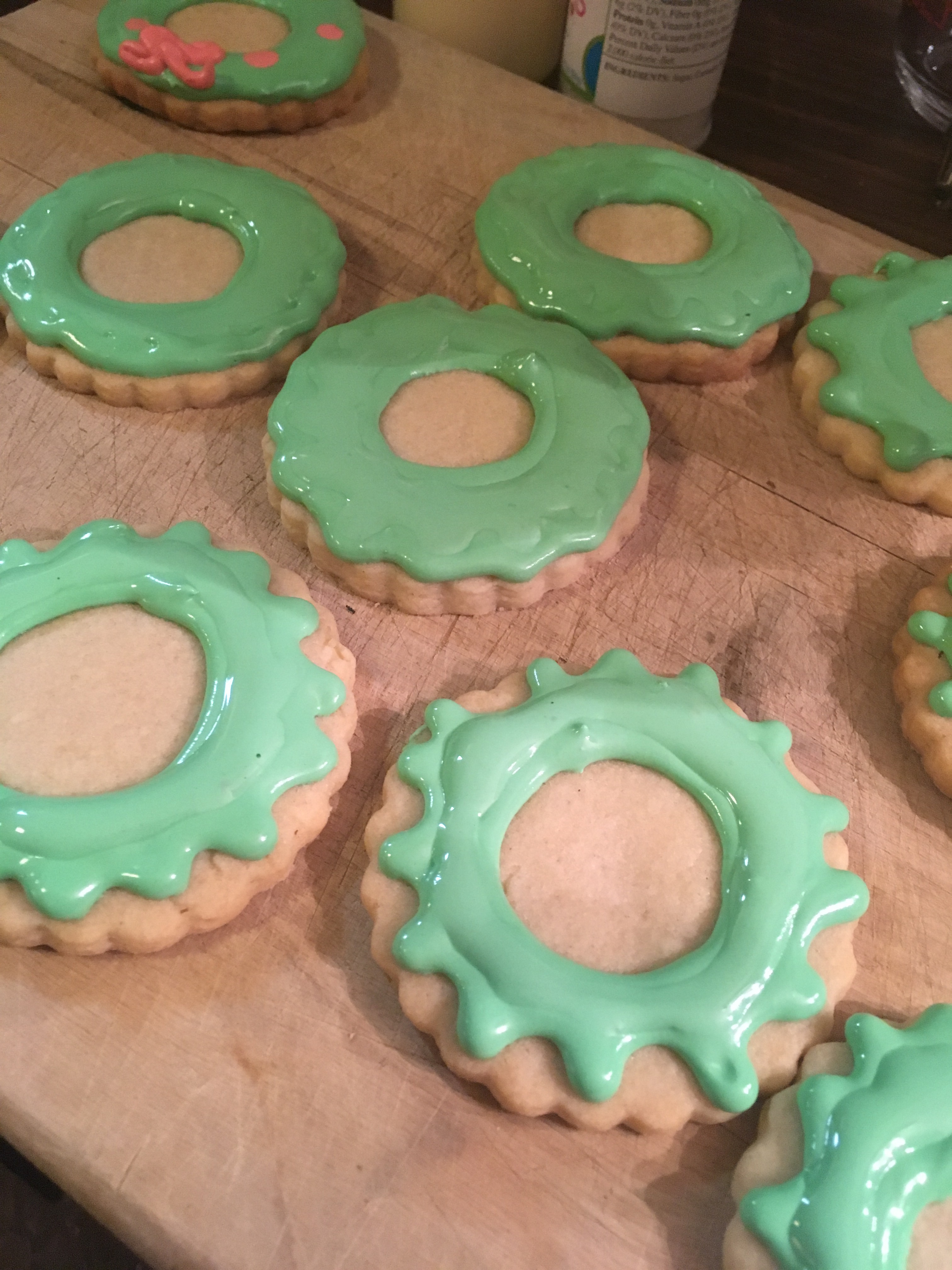 Now, you can either let them dry and decorate on top of the royal icing wreath or do what I did and use another color to add decorations that do not sit on top of the icing:
You can see how the pink dots sink into the green icing.  Both the pink and the green are "flood" consistency, which is what makes that possible.  Let the cookies dry a bit then come back with a thicker icing and add bows to the wreaths:
I'm almost certain you can do a better job with the bows than I did.  Oh well.
Let the cookies dry overnight and enjoy!
I think they turned out well, even if they are pink.  I could say I made them pink in honor of my mom, but to be honest, I didn't realize that I was almost out of red food coloring.  (You do know the secret to really pretty red icing, right?)
I absolutely love decorating sugar cookies.  In fact, I have an entire Pinterest board dedicated to Christmas Cookies.  (You do follow me on Pinterest, right?  Please do!  I love sharing ideas and seeing other people's creativity, too!)  I would love to see your favorite Christmas cookies.  Leave a comment and share a link!