This post contains affiliate links to products mentioned. For more information, read my
disclosure policy.
This post contains affiliate links to products mentioned. For more information, read my
disclosure policy.
Is there anything better than a fresh blueberry muffin warm from the oven?  Not much.  Especially when that soft muffin has a crunchy, sweet topping, too.  Of course, you probably need to go to your local bakery to get a perfect blueberry muffin, right?
No!  Let me say it one more time:  No!  You can make perfect blueberry muffins right at home without a mix, and it's really not even very difficult to do.  You can whip them up in just a few minutes.  Seriously, you are just minutes away from blueberry muffins that look like this:
Your kids will love them, and you can rest easy knowing that while they're sweet, these muffins themselves don't have an excess of sugar.  The blueberries really do get a chance to shine.  My kids enjoy these for breakfast, but they also like them when snack time rolls around. And, if your kids' mom needs a little something to go with her afternoon pick me up, brew the coffee or steep the tea and enjoy one of these blueberry muffins!
One of the best things about these muffins is the crunchy little topping, but you can certainly make these without it.  In fact, one of my kids prefers the muffins without the topping.  Another great thing about these muffins is that the blueberries you use can be either fresh or frozen.  I often use frozen blueberries because they don't break as easily when I fold them into the batter, which prevents the batter from turning blue.  Of course, in the summer, when fresh blueberries abound, I love to use them in this recipe and many others!
Now, that I've got you thinking about these blueberry muffins, I guess I should tell you how to make them.
What You Need to Bake Blueberry Muffins:
1 3/4

cups

all-purpose flour

1/3

cup

sugar

2

teaspoons

baking powder

1/4

teaspoon

salt

1

egg, beaten

3/4

cup

milk

1/4

cup

 vegetable oil

1

cup

blueberries, fresh or frozen

1/3 cup all-purpose flour

1/2 cup sugar

1/4 cup 

butter
What You Do:
First, combine the flour, sugar, baking powder, and salt in a large bowl.
Use a whisk to mix it together well, which will help add air to make the muffins light.  It works a bit like sifting and is just a simple way to improve the texture of your muffins.  After combining the dry ingredients, form a well in the center and add the beaten egg, milk and oil.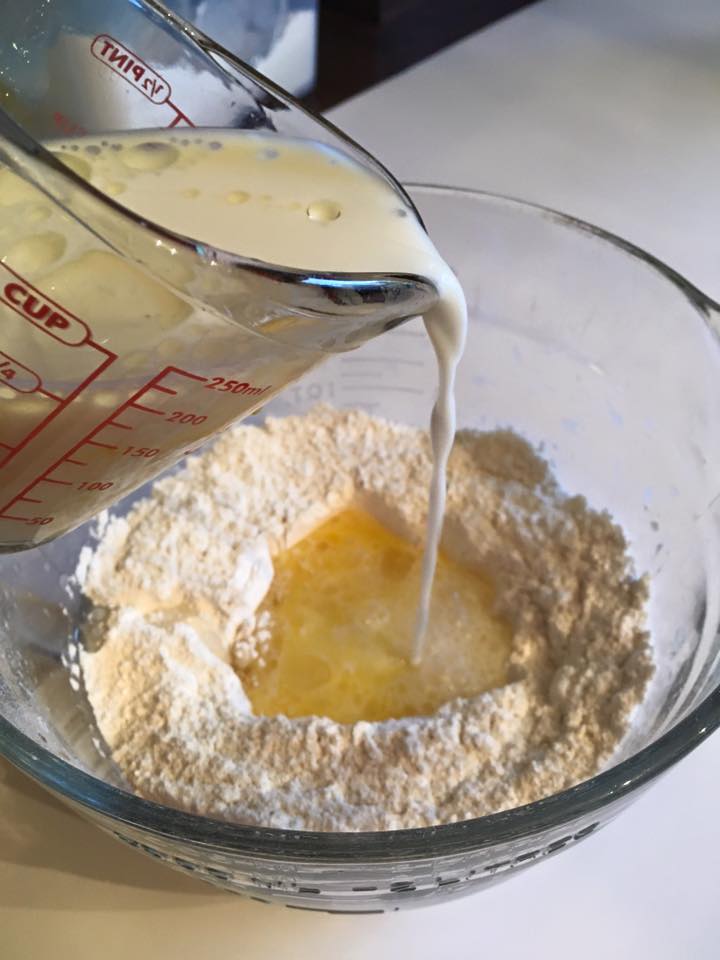 Stir everything together just until it is combined.  There will be lumps.  Gently fold in the blueberries.
Now, divide the batter into 12 muffins using a muffin tin or silicone liners.  I like to use cupcake liners then spray a bit of cooking oil so that the muffin tops don't stick to the pan and release more easily from the liners.
I also like to be sure a place a few extra blueberries on the top of each muffin so there are always some visible from the outside…makes them look even more yummy!
Now, you'll make your streusel topping by combining the flour and sugar and butter until large crumbs form.  Just cut the butter in with a fork or a whisk, unless you have a pastry cutter.  If you have one of those, well, use it because that's what it's for!  Sprinkle the crumbs over each muffin.
Bake at 400 for about 20 minutes.  Remove from pan and either serve warm (yum!) or allow to cool and serve later (still yum!).
Enjoy!
Don't forget to pin this recipe so you'll have it when you need it!  Pin the image below and be sure to follow me on Pinterest for more recipes and ideas!