This post contains affiliate links to products mentioned. For more information, read my
disclosure policy.
Delicious and easy to make, these Rich & Chewy Fudge Squares are perfect for your holiday gatherings and make great gifts for neighbors and friends.
There are only a few things that all of my sisters and I agree upon.  One is Primos Cafe's Gingerbread Men, and another is their fudge squares.   Visiting Primos was part of almost any trip to Jackson when I was a young girl, and my mother used to visit with her father when she was a girl, too.  It's a family tradition nowadays, I guess.
When I was expecting our second child, I received P17 shots each week at my OB's office, and afterwards, I'd take my oldest daughter to Primos for breakfast while the pain wore off. (Anyone else?  Those shots are AWFUL!)
I can't wait to have Christmas with my sisters because I can't wait to serve these fudge squares to my family!   They are so close to the "real thing."  They are rich and decadent but full of really simple, yet delicious, fudge flavor.  Perfect.
They're also easy to make and travel well when cooled, which makes them perfect for taking to family and friends during the holidays.
This recipe was adapted from a recipe for brownies in At the Table with Patti Roper, which is a great cookbook and would make a perfect gift for any foodie on your list!  It is filled with recipes submitted by readers of Mississippi Magazine.  My mom gave it to me one year, and it quickly became one of my go-to cookbooks.
What You Need to Make Rich & Chewy Fudge Squares
2 sticks butter, melted
2 cups sugar
1/4 teaspoon salt
4 eggs
1/3 cup cocoa
2 cups all-purpose flour
1/3 cup milk
1 stick butter
4 tablespoons cocoa
3 cups confectioner's sugar
1 teaspoon vanilla
How to Make Rich & Chewy Fudge Squares
Preheat your oven to 350 degrees.  Melt 2 sticks of butter.
Add 2 cups sugar, 1/4 teaspoon salt, 4 eggs, 1/3 cup cocoa, and 2 cups flour to butter and mix well.




Pour the mixture into a greased 9×13 pan.  The batter will be thick!

Bake at 350 for 30 minutes (or until a toothpick inserted into the center comes out clean).  Remove from oven and allow to cool.
While brownies cool, combine 1 stick butter, 1/3 cup milk and 4 tablespoons cocoa in a saucepan and bring to a boil.
Cook for 1 minute then remove from heat and add confectioner's sugar and vanilla and mix well.
Pour over cooled brownies and allow to cool completely.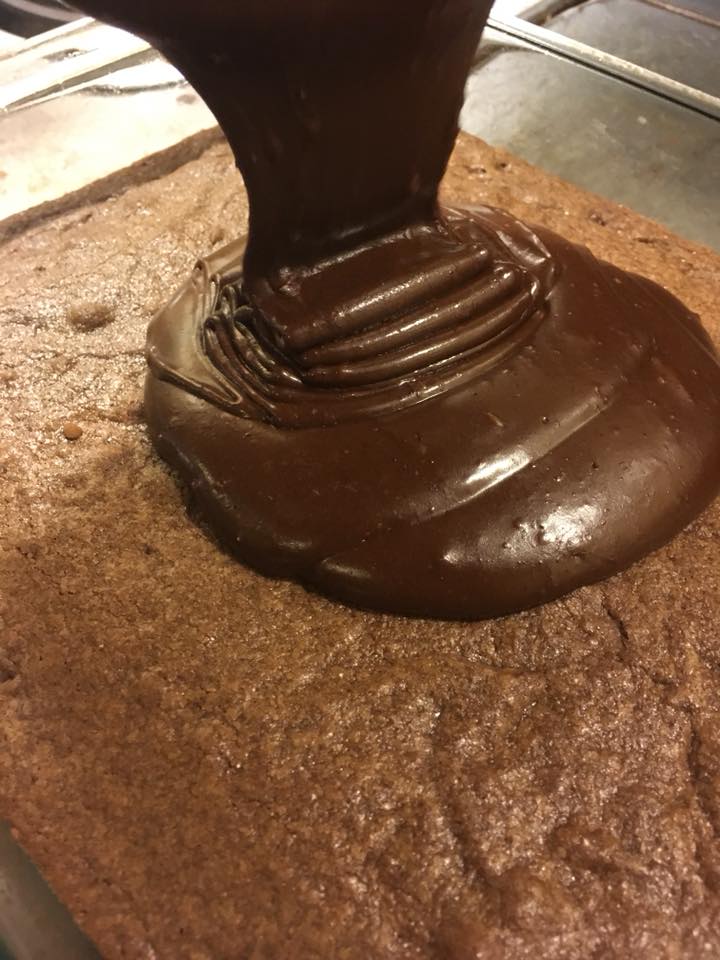 Cut brownies into squares and dip bottoms into sugar.
Enjoy!