This post contains affiliate links to products mentioned. For more information, read my
disclosure policy.
WARNING:  Read the recipe for these Lemon Shortbread Bars at your own risk….because I do not want to be held responsible for the pounds you might gain if you cook these bars or buy this cookbook.  Okay?
It all started with one of the most exciting emails I've ever received….the one asking me if I'd like to review the new Southern Living cookbook "Southern Living Classic Southern Desserts: All-time Favorite Recipes for Cakes, Cookies, Pies, Pudding, Cobblers, Ice Cream & More ."  Ummm….yes!  First, I love cookbooks.  I just sit and read them sometimes.  Second, if you've ever read this blog before, you know how I feel about dessert, and you can probably guess how my hips feel about them.  So, I said "Of course!" and this arrived:
Y'all, this book is beautiful!  I just sat and stared at it for a few minutes then started praying my babies would sleep long enough for me to read a few recipes.  I just couldn't wait to try a few to share with you.  The photos of each recipe are so pretty…they just made my mouth water.  The variety and number of dessert recipes is astounding.  Seriously. If you have an occasion, this book has the perfect dessert for it.  Several probably.  I mean, there is a whole chapter just for cheesecakes!
Of course, the variety presented a little problem for me.  I couldn't decide which recipe to try first.  Some were simple; others were decadent.  All sounded delicious.  But which one to share with you?
Perhaps this….
I'd been wanting to try a molten lava cake for a while, and the Mocha Java Cakes recipe was easy to follow and very tasty!
But perhaps, you'd rather have these:
After all, Cappucino-Frosted Brownies were absolutely perfect for tea time.
But, the moment I saw this recipe I knew.  I don't know how or why, but I just knew the Lemon Shortbread Bars were just what we all needed this week.
And, I was right.  They are light and refreshing (well, as light as anything with this much butter and eggs can possibly be).  They are beautiful, too, and I think they'd be just the thing to take to any little ladies' gathering.  (I've already got the group in mind!)  Also, the recipe says, "Kids love it!",  and mine certainly did.
This was not the most simple recipe I tested, but the instructions in the cookbook are so clearly written and easy to follow that the bars were really quite easy to make.  Here's how you do it:
What you need:
2 cups all-purpose flour
3 Tbsp. granulated sugar
1/2 tsp. salt
3/4 cup cold butter, cut into 1/2 inch pieces
2 egg yolks
6 large eggs
2 1/2 cups granulated sugar, divided
1 1/4 cups all-purpose flour, divided
1 tsp. baking powder
4 tsp. lemon zest
1/2 cup fresh lemon juice
1/4 tsp. salt
1/4 cup cold butter, cut into 1/2 inch pieces
Powdered Sugar
Here's what you do:
Preheat oven to 350.  Combine first 3 ingredients in a food processor.  Add 3/4 cup butter to food processor and pulse 12 to 15 times or until mixture resembles coarse meal.  Add egg yolks to food processor, and process just until mixture forms clumps.  (Clumps will be moist.)  Press mixture onto bottom of a lightly greased 13×9-inch pan.
Bake at 350 for 18 minutes or just until edges are golden brown.  Remove from oven, and reduce oven temperature to 325.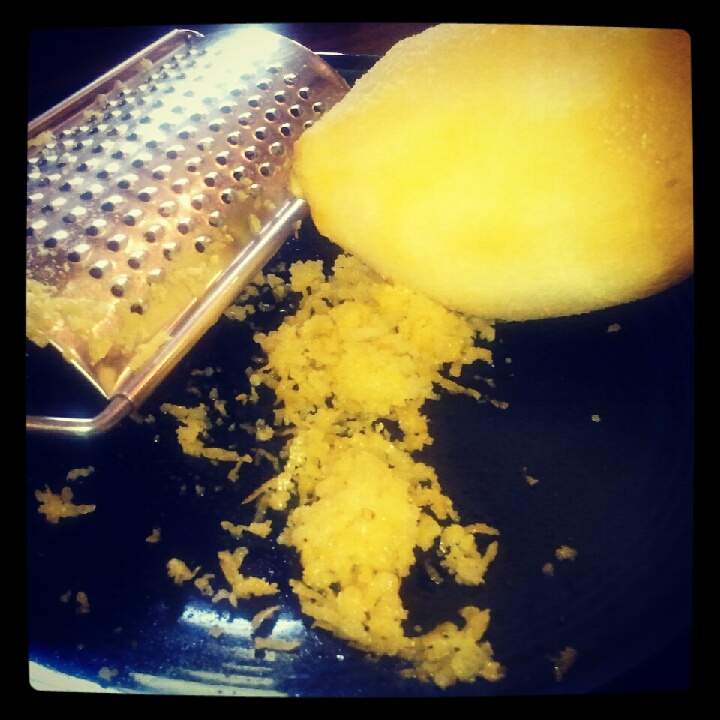 Whisk together 6 eggs and 2 cups of sugar in a large bowl until blended.  Combine 1/2 cup flour and baking powder; whisk into egg mixture until blended.  Whisk in lemon zest and lemon juice.  Immediately pour lemon mixture over hot crust in pan.
Bake at 325 for 20 to 25 minutes or until filling is set.  Remove from oven.
Combine 1/4 tsp. salt and remaining 3/4 cup flour and 1/2 cup sugar.  Cut in 3/4 cup butter pieces with a pastry blender or a fork until crumbly.  Sprinkle topping over hot lemon mixture.
Bake at 325 for 25 minutes or just until lightly golden.  Let cool completely on a wire rack (about 1 hour).  Cut into 32 bars and sprinkle evenly with powdered sugar just before serving.
Enjoy!
P.S.  As you can tell, I have a couple more recipes to share with you so check back for more from Southern Living Classic Southern Desserts!  And if you'd like to get your own copy of this wonderful book, you can find it here:Southern Living Classic Southern Desserts: All-time Favorite Recipes for Cakes, Cookies, Pies, Pudding, Cobblers, Ice Cream & More (Southern Living (Paperback Oxmoor))
.  I'd definitely recommend it…It may just be the only dessert cookbook you'll ever need!
Disclaimer:  The links above are affiliate links, and I did receive the book to review…BUT the opinions (and the pounds I gained while forming them) are all mine!