This post contains affiliate links to products mentioned. For more information, read my
disclosure policy.
This post contains affiliate links to products mentioned.  For more information, please read my Disclosure Policy.
Toffee Butter Crunch is an easy-to-make treat for the holidays or any time!  It's perfect for gifts, too!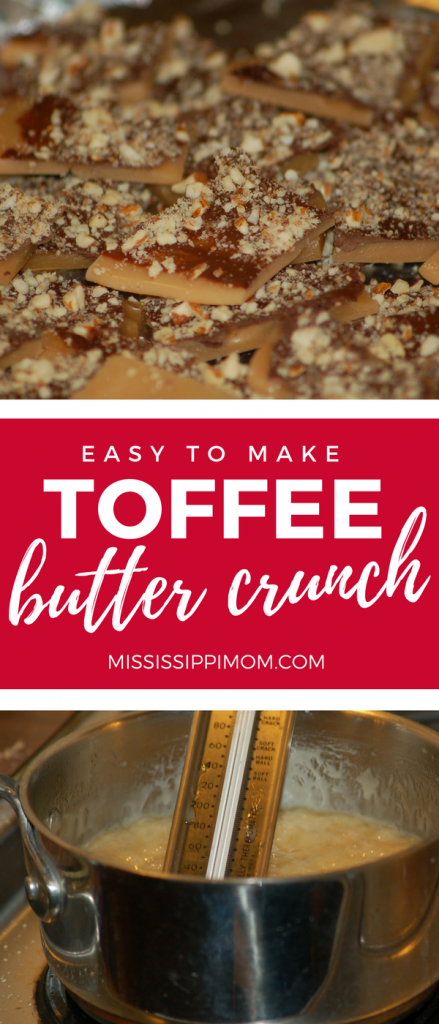 Buttery, crunchy, covered in chocolate and nuts.
I shouldn't have to say much more to convince you to try this recipe for Toffee Butter Crunch, but I will add this:  for someone who is often intimidated by candy-making, this was relatively simple to do.
Just be sure to wait until you have a babysitter to make Toffee Butter Crunch for a couple of reasons.  First, you have to pay attention to what you're doing.  Turning away at the wrong time could be disastrous.  Candy can burn quickly.  Second, little kids in the kitchen with very hot candy. Enough said!
One of my dear friends from my days of living in Kenya grew up in a part of California where almonds are grown.  Every year at Christmas, she makes this candy, and while you could certainly use other nuts (like pecans, for instance), I always use almonds like she does.  She makes the best Toffee Butter Crunch, after all!
When I decided to make a batch of my own, I didn't have her recipe so I followed the recipe from the Better Homes and Gardens Cookbook.  It's a great go-to cookbook to have on hand, and whenever I make something for the first time, I usually look for the recipe there first because:
It's probably in there.  There are so many great recipes in the book.
If the recipe is there, it's probably the most basic version, and I like to learn (and hopefully master) the basic version of something before I branch out and try to "improve" upon it.
(Side Note:  If you're looking for a gift for young adults starting out on their own or for newlyweds, this cookbook makes a great gift because it has so many basic recipes for beginners.  It's the first cookbook my mom ever gave me!)
Anyway, making Toffee Butter Crunch is really simple and only uses a handful of readily available ingredients.  Try it this holiday season!
What you Need to Make Toffee Butter Crunch
1 cup butter
1 cup sugar
3 tablespoons water
1 tablespoons light corn syrup
1 cup chocolate chips (The original recipe calls for semi-sweet, but I love dark chocolate, too!)
1/2 cup finely chopped almonds.
How to Make Toffee Butter Crunch
First, butter the sides of a small saucepan then melt your butter.  Add the sugar, water and corn syrup and bring the mixture to a boil. Boil evenly and stir regularly until the mixture reaches 290 on a candy thermometer.  (My candy thermometer calls this "hard crack stage.")
When the mixture reaches 290, pour it in a pan lined with aluminum foil.  Allow the candy to cool for a few minutes until it is set then sprinkle the chocolate chips over the top of the candy.  When the chocolate chips begin to melt, spread the chocolate evenly over the candy to the edges.  Sprinkle the chopped almonds over the top of the chocolate and allow the candy to cool completely.
Once cool, break the candy into pieces and enjoy!
Toffee Butter Crunch is perfect for gifts.  Just put the candy in clear cellophane bags and tie them with pretty bows.  (Think:  Teacher Gifts!)
Store the candy in an airtight container in your refrigerator.
Note: when boiling the candy, it takes a long time to get to 250 degrees or so, and you might be tempted to look away or do other things, but don't!  After 250 or 260 things really get moving and it heats up quickly so pay attention! Scorched candy does not taste good!